3RD HBP CURRICULUM WORKSHOP SERIES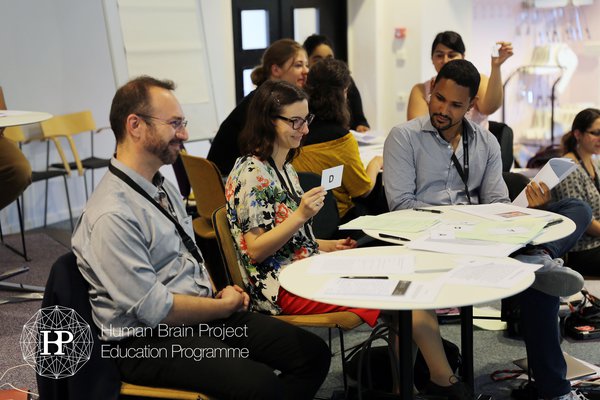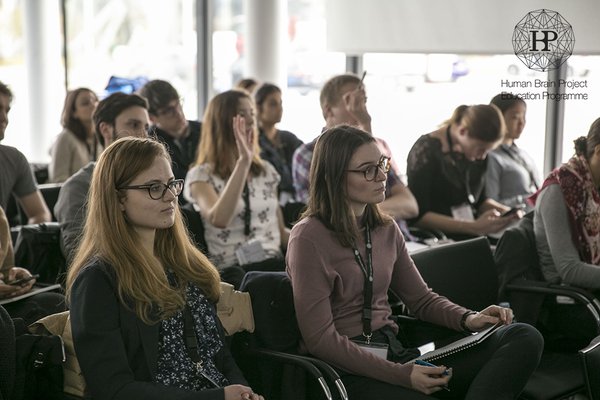 HBP Curriculum Workshops address early-career researchers who wish to gain knowledge outside their area of specialisation or acquire complementary skills.

In the 3rd teaching cycle there are several workshops planned for non-specialists, which focus on presenting the basics of the HBP core disciplines neuroscience, brain-related medicine and computer science to scientists from different research fields as well as on transversal competencies relevant to the objectives of the HBP, such as ethical issues raised by scientific research, intellectual property rights and management, as well as organisational solutions for the exploitation of research results.
 
The face-to-face workshops are based on the content of the HBP Curriculum online lectures. 
TARGET GROUP
The workshops address early career researchers who want to gain knowledge outside their area of specialisation or who are interested in learning about ethical challenges or intellectual property rights.

 
PARTICIPATION INFORMATION
Participation is open to the entire student community and early-career researchers, regardless of whether they are affiliated with the Human Brain Project or not. The number of participants is limited to a maximum of 30. It is aimed to offer equal opportunities for all early-career researchers regardless of gender, age, origin, etc. Applicants are required to submit a CV in order for the Programme Committee to assess the various scientific backgrounds and knowledge of the audience to adjust the level of teaching accordingly.
SPECIAL ASSISTANCE / CHILD CARE
Please inform us if you require any special assistance or child care support. We are happy to help you make the necessary arrangements. Please note that the workshop organisers will help with logistics, but cannot provide financial support for child care.

 
REGISTRATION FEE
The fee does not include travel and accommodation. Fees will be collected after participants have been selected.
A limited number of fee waivers per workshop are available for participants who submit an abstract for poster presentation. Participants can apply for fee waivers prior to the respective application deadline by sending an email to the organisers.
Please check with your supervisor how your institution can support you with regard to expenses for the attendance of the workshops. Further information about organisations offering travel support can also be found on our website. 

Are you working in an HBP Partnering Project? SCOPE can help with your expenses! 
CANCELLATIONS AND REFUNDS
Notice of cancellation has to be sent via email to the HBP Education Programme Office. The policy for refunding registration fees is as follows:
Written cancellation received:
60 days before the event: 80% refund
59-30 days before the event: 50% refund
29-1 days before the event: no refund
No refunds will be granted for unattended events or early termination of attendance, in case of cancellation of speakers, or any other incidents during the event that are beyond the control of the organisers. 
In the event that the conference cannot be held or is postponed due to events beyond the control of the conference organisers (force majeure) or due to events that are not attributable to wrongful intent or gross negligence of the conference organisers, the conference organisers cannot be held liable by delegates for any damages, costs, or losses incurred, such as transportation costs, accommodation costs, costs for additional orders, financial losses, etc.
ABSTRACT SUBMISSION INFORMATION
A poster session will be organised at each workshop. Participants who want to present their research in the poster session, have to submit an abstract with their application.

 
ECTS CREDITS
Participants have the possibility of taking an exam related to the online content of the courses. Upon successful completion, ECTS credits can be awarded. The credits are awarded by the Medical University of Innsbruck / Austria (MUI) if the following conditions are fulfilled:
• Full attendance of one workshop
• Registration for HBP Online Course on Interdisciplinary Brain Science via e-mail to curriculum.edu@humanbrainproject.eu, stating which online course(s) you would like to attend
• Attendance of the online course(s)
• Successful completion of exam(s)
In total, it is possible to achieve a maximum of 12 ECTS credits for all 6 courses.

The credits for the 6 courses are distributed as follows:
Brain medicine for non-specialists
2,5 ECTS
Neurobiology for non-specialists*

Basic: 1 ECTS
Advanced: 1 ECTS

ICT for non-specialists
1,5 ECTS
Cognitive systems for non-specialists
2 ECTS
Research, ethics and societal impact
1,5 ECTS
Intellectual property rights, translation and exploitation of research
2,5 ECTS

* It is possible to only take the Basic exam, or both Basics and Advanced, but not only the Advanced exam.
Examination fee: 30€ (per exam)
3RD TEACHING CYCLE 2019 | WORKSHOPS
            Measuring and modelling brain
            states - final workshop of the
            teaching cycle
Cognitive systems for non-specialists
            Research ethics and societal impact

 
ICT for non-specialists

 
ICT for non-specialists
Brain medicine for non-specialists
Neurobiology for non-specialists
2ND TEACHING CYCLE 2018 | WORKSHOPS
Research, ethics and societal impact
Neurobiology for non-specialists
ICT for non-specialists
Brain medicine for non-specialists
Entrepreneruship in neuroscience
1ST TEACHING CYCLE 2017 | WORKSHOPS
HBP EDUCATION WORKSHOPS