Measuring and modelling brain states
3rd HBP Curriculum Workshop Series - Final workshop
28-29 March 2020 | Sölden, Austria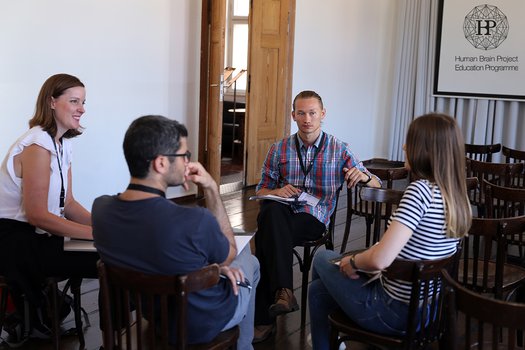 FAQs & ALL YOU NEED TO KNOW
This workshop has been cancelled due to travel restrictions affecting numerous speakers and other registrants.
The final workshop of the 3rd HBP Curriculum Workshop Series invites researchers interested in measuring and modelling brain states at multiple scales. At the cellular level, the appearance of different brain states (such as wake, sleep, anesthesia) are reviewed at the scale of neurons, from extracellular recordings in both human and animal models. From a modelling perspective, workshop participants will learn how cellular data can be used to build model networks of spiking neurons and how mean-field techniques are used to derive population models of different brain states from those network models. Together, these techniques can bridge scales, from neurons to the whole brain, and provide an integrated view of brain states and their responsiveness.
Participation is open to the entire student community and early career researchers, regardless of whether they are affiliated with the Human Brain Project or not. It is aimed to offer equal opportunities for all early career researchers regardless of gender, age, origin, etc.
Early registration is recommended as the number of participants is limited.
Participation fees:
Regular fee: 90 €
This workshop is a satellite event to the 22nd International Neuroscience Winter Conference. Separate registration for both events is required. Attendees of the Winter Conference can attend this workshop free of charge. In order to register for free, please send an email with your registration ID from the conference to curriculum.edu@humanbrainproject.eu.

Workshop participants enrolled in a university programme are entitled to join the Winter Conference free of charge. Other workshop participants (non-students) can participate in the conference on special conditions. 
Online registration closed. On-site registration possible!
Student presentations:
The workshop will offer the possibility of presenting your research in a brief oral presentation. Registrants who would like to present their work are required to submit an abstract. Abstracts can be submitted in Word format (max. 250 words excl. title and affiliations) via email to curriculum.edu@humanbrainproject.eu.
Download the preliminary programme: 

3rd HBP Curriculum Workshop Series - Measuring and modelling brain states (2.0 MB)
PROGRAMME
Saturday 28 March 2020, from 1:00 pm
Welcome & introduction | 15 min
Brain states at the level of single neurons in mice | 60 min
Mavi Sanchez-Vives (University of Barcelona) 
Optogenetic control of arousal state transitions | 60 min
Louis de Lecea (Stanford University)
Linking cellular levels and large-scales using mean-field models | 60 min
Alain Destexhe (Paris-Saclay University)
Modelling normal and pathological brain states at the whole-brain level | 60 min
Victor Jirsa (Aix-Marseille University)
Sunday 29 March 2020, until 3:00 pm
EEG global microstates as basic building blocks of brain information processing | 60 min
Thomas Koenig (University of Bern)
Student presentations | 60 min
Data-driven discovery of brain states | 60 min
Fede Raimondo (University of Liège)
Bistability, slow waves and complexity in physiological and pathological brain states | 60 min
Marcello Massimini (University of Milan)
Round table discussion | 30 min
This programme may be subject to change.
CONFIRMED SPEAKERS
SCIENTIFIC CHAIR
Alain Destexhe | Paris-Saclay University, France
ORGANISERS
Sylvia Aßlaber | MUI
Judith Kathrein | MUI
Alois Saria | MUI
ABOUT THE VENUE
HOTEL DAS CENTRAL 
Auweg 3
6450 Sölden
Austria 
Das Central is a 5-star SPA hotel in one of the largest ski resorts in Austria with a restaurant that received prestigious awards by international restaurant guides and fully equipped conference rooms.