Brochures
Learn about the research being done by the Human Brain Project in the brochures below.
A closer look at scientific advances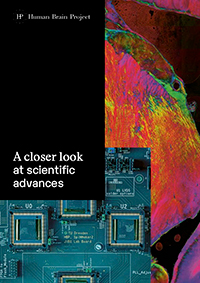 The new booklet includes in-depth feature articles, interviews with leading researchers and spotlights on latest research and innovation.
Spotlights on latest scientific achievements
In this brochure, we highlight some of the most recent scientific breakthroughs of the project. A selection of spotlights gives a taste of what HBP research has achieved over the last two to three years and where it is headed in its final phase.