April 28, 2021
Webinar: Brain health, the next challenge of the 21st century
Update 12/05/2021: If you were unable to attend the webinar, a recoding is available here.
This webinar on 29th April at 16:00 CEST - organized by EBRAINS and The Brussels Times - will explore the challenges facing brain research in the 21st century. Panelists include Paweł Świeboda (Director General of the Human Brain Project, CEO of EBRAINS), Gitte Knudsen (Chair, Professor, MD, DMSc at Copenhagen University Hospital) and Pieter Roelfsema (Director of the Netherlands Institute for Neuroscience.)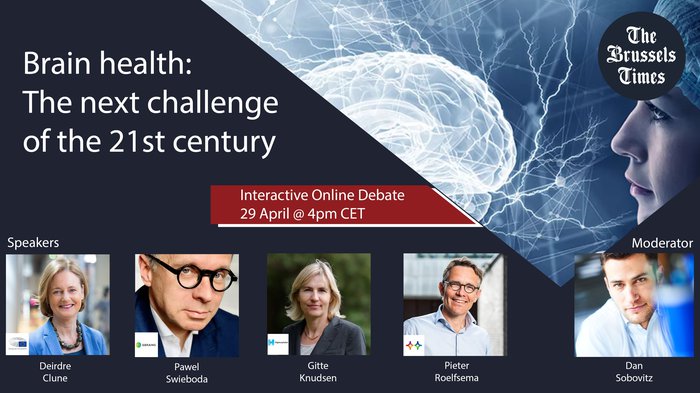 Brain disorders are increasingly recognised as major causes of disability and death worldwide.
In Europe, as many as 179 million are affected by brain disorders, at the economic cost of over 800 billion EUR per year. 
And as populations are growing and ageing, innovation is required to develop effective prevention and treatment solutions.
Furthermore, the massive impact of the COVID-19 pandemic on mental health has made it even more urgent to act in the brain health domain.
Despite largescale research programs aimed at improving early diagnosis and treatments, science has made little progress in recent years, and no breakthrough has emerged to find a decisive cure for patients with brain disorders.
So how can research be done differently to address what is sometimes referred to as the "greatest health challenge of the 21st century", and to help transform the lives of people living with brain disorders and of their families?
Tune in to our webinar on 29 April to find out, and be a part of this important discussion. Hear from key experts and decision makers sharing their insights, and also participate directly in the conversation and share your ideas live with the speakers.
Registration
Click here to register for 'Brain health, the next challenge of the 21st century.'