May 12, 2021
Event Recap: INCF Neuroinformatics Assembly 2021
And just like that we are closing the chapter of another successful online conference - which enables us to stay in touch with colleagues across the globe and keep the scientific exchange flowing, despite the ongoing restricted environment. Being the third largest INCF Assembly since its inception in 2006, the HBP & EBRAINS want to share a few highlights of its participation at this event.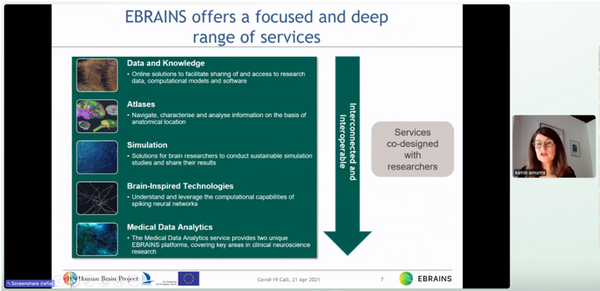 Image 1: Prof. Katrin Amunts presenting the CEoI "Impact of COVID-19 on brain and mental health"
The INCF Assembly aims to provide the neuroscience community-at-large with approaches that can be used today to implement the FAIR principles in their research. It also aims to provide tool developers and infrastructure providers with an opportunity to interact with the user community and to interact with other practitioners to advance the field of neuroinformatics.
At the event, the HBP and EBRAINS were present with a virtual booth and were joined by key HBP stakeholders to showcase latest developments and research results within the project:
Main program:
FAIR atlases presented by Heidi Kleven (University of Oslo)
Responsible access to neuroscience data: Critical considerations presented by Damian Eke (De Montfort University)
Structured validation process in neural network simulations and analysis presented by Michael Denker (JUELICH)
Capturing electrophysiology data for reuse in EBRAINS presented by Andrew Davison (CNRS)
The Virtual Brain presented by Petra Ritter (Berlin Institute of Health)
EBRAINS presented by Jan Bjaalie (University of Oslo) & Steven Vermeulen (EBRAINS)
FAIR data in neuroscience and life sciences: EBRAINS solutions for data publishing presented by Ida Aasebo and the Data Curation team
Q&A about brain reference atlases presented by Heidi Kleven (University of Oslo)
Computational Resources for Neuroscientists presented by Alex Upton (CSCS) & Javier Bartolome (BSC)
HBP Call: COVID-19 and its impact on the brain and mental health presented by Katrin Amunts (JUELICH) & Refia Durmaz (TUM)
FAIRification of electrophysiology data analysis: provenance capture in the Elephant toolbox presented by Cristiano Kohler (JUELICH)
Responsible Data Governance in EBRAINS presented by Simi Akintoye, Damian Eke & William Knight (DMU)
Snudda: Open-source tool for creating micro-circuits in silico presented by Johannes Hjorth & Alexander Kozlov (KTH)