Sept. 9, 2020
Human Brain Project launches 'Brain Matters' webinar series
This September, the Human Brain Project will launch 'Brain Matters', a new monthly webinar series which will explore the various issues being tackled by the HBP scientific community.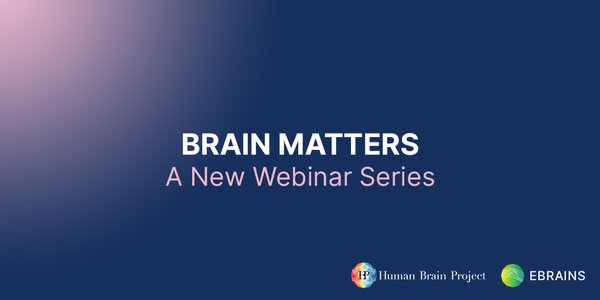 The hour-long sessions will focus on different areas of brain research and feature expert speakers, with the goal of highlighting the HBP's scientific achievements and the state-of-the-art services offered by its new infrastructure for brain research, EBRAINS.
The first event, "EBRAINS – In Search of Breakthroughs in Science and Medicine", will take place on Monday, September 21 at 16:00 CEST and will feature renowned HBP scientists Katrin Amunts, Simon Eickhoff, and Viktor Jirsa. The session will be moderated by Katrina Sichel.
The interactive webinars are free and open to the public. Register for the Brain Matters webinar series here.
Webinar agenda:
The webinar will be divided into three sessions:
Katrin Amunts: The Human Brain Project and EBRAINS: A new era in brain research
Watch this session to learn about how The Human Brain Project and EBRAINS are ushering in a new era in brain research by:
Moving the field of neuroscience towards the world of connectivity
Gaining a better understanding of the human multiscale connectome
Providing brain researchers with high quality models, data sets, and robust tools through EBRAINS
Simon Eickhoff: Using Brain Scan Data to Predict Personality Traits and Pathologies
Are you curious about your personality, and what makes people tick? Tune in to this session to find out what brain scans and Artificial Intelligence can tell you about yourself, including:
How old you are
How outgoing you are
How neurotic you are
How good your memory is
And much more!
Viktor Jirsa: Guiding Medical Interventions with Personalized BrainModels
Brain surgery is difficult to perform, and outcomes are hard to predict. But what if a virtual model of a patient's brain could make things easier? Join this session to learn about the various applications of personalized brain models, including:
Understanding brain activity
Gaining insights into brain pathologies
Helping surgeons to make decisions regarding brain surgery
These sessions will be followed by a panel discussion and Q&A with the speakers. We hope to see you there!