Oct. 7, 2020
Event Recap: HBP & EBRAINS at Bernstein Conference 2020
As of last week, the Bernstein Network officially concluded its first virtual Bernstein Conference, an annual fixture for the international computational neuroscience community, and the Human Brain Project wanted to share a few highlights of its participation.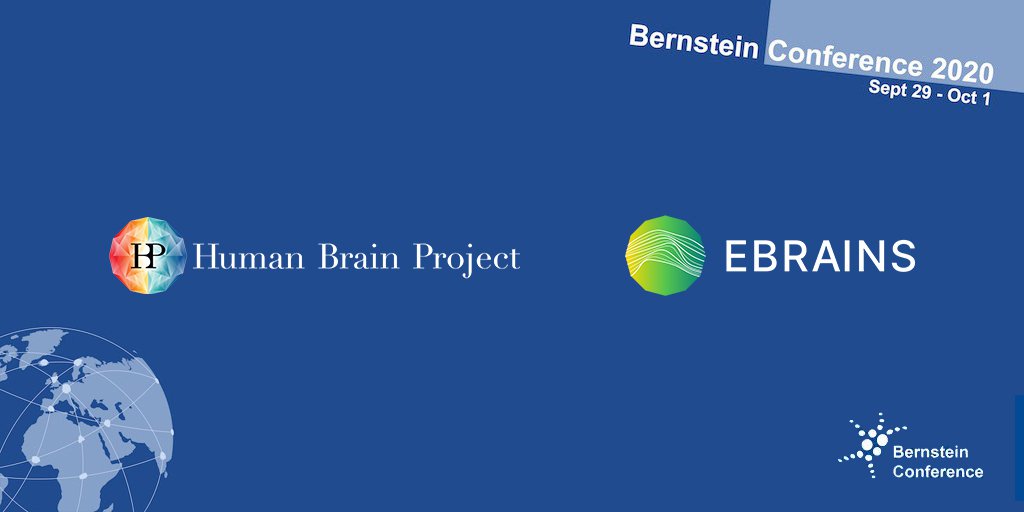 Each year, hundreds of stakeholders of the computational neuroscience community are invited to join the Bernstein Conference for intensive scientific exchange, attracting students, postdocs and PIs from around the world to meet and discuss new scientific discoveries. Going online was not only a reaction to the current pandemic, but also a chance to seek new possibilities in order to keep scientific meetings climate-friendly and allow unrestricted participation from scientists who are challenged by travelling.
At the event, the HBP and EBRAINS were present with a virtual booth and were joined by key HBP stakeholders to showcase latest developments and research results within the project:
Introducing EBRAINS: European infrastructure for brain research presented by Wouter Klijn (FZ Juelich)
EBRAINS Community – An important piece of EBRAINS sustainability after the end of HBP presented by Anna Kierkegaard & Nicolas Caesar Petersen (Danish Board of Technology)
EBRAINS Data Sharing presented by Ulrike Schlegel & Eszter Agnes Papp (University of Oslo)
Neuromorphic Computing in EBRAINS: introduction and access presented by Steve Furber & Oliver Rhodes (University of Manchester) and Julian Göltz, Sebastian Billaudelle & Andreas Baumbach (Heidelberg University)
The Human Brain Project Education Programme - workshops, lab visits & networking opportunities presented by Judith Kathrein & Johanna Fusseis (Medical University Innsbruck)
Computational Resources for Neuroscientists presented by Anne Nahm (FZ Juelich) and Alex Upton (CSCS)
Spiking Simulation Models and Tools presented by NEST Users and Developers
Designing analysis workflows for electrophysiology and network simulation using Neo and Elephant presented by Michael Denker & Danylo Ulianych (FZ Juelich)
Understanding how the brain, body and environment interact using robotics presented by Tony Prescott & Alejandro Jimenez Rodriguez (University of Sheffield)
You are welcome to visit our event page where presentations are available for download and further information regarding the event is provided.
And, if you want to learn more about the HBP and EBRAINS, register your interest here and consider signing up to our monthly newsletter: https://www.humanbrainproject.eu/en/follow-hbp/newsletter/
We're looking forward to seeing you at the Bernstein Conference in 2021!