Ethics & Society Training Resources
The Human Brain Project's Capacity Development Committee works to provide researchers who are using the EBRAINS research infrastructure or who work within the Human Brain Project with the skills needed to identify and address ethical, legal, and societal issues that arise from brain research. Enabling a responsible research and innovation culture within the Human Brain Project, EBRAINS, and the neuroscience community. And raising awareness of the need to anticipate and deliberate on issues regarding responsibility through engaging with the public. This includes providing tools and methods for foresight as well as critical and philosophical reflection.
We  conduct training that cover a wide range of issues in data governance, responsible research and innovation, and neuroethics.
Our Training Modules
---
Animal data in EBRAINS - Governance & compliance
---
EBRAINS handles a wide variety of data modalities, and one of the most prevalent is data collected from non-human animal subjects. The collection of data from such subjects can be a legally and ethically complex issue, as can the handling of the data which this research produces. The Animal Data in EBRAINS - Governance and Compliance module will cover those requirements expected of animal datasets which users might seek to share and process on EBRAINS services.
We will address those legal, ethical, and societal pressures which underpin the establishment of requirements for animal research to ensure that participants have a good handle on not only what is expected of them as researchers, but also why these expectations have come about. By the end of the module, participants will have the tools they need to ensure that they handle their animal research, and the data which it produces, in a responsible, legal and ethical manner.
Contact: William Knight (william.knight[at]dmu.ac.uk)
---
Diversity and inclusion 
---
24 February 2022 | 10:00-11:30 CET
Next session: To be announced
Diversity comprises dimensions protected by law as well as scientific, organisational and individual dimensions, such as field of expertise, role within the HBP (and EBRAINS), or cultural background. Team diversity is among others one essential requirement for innovation and success. Join this webinar to learn how to contribute to an inclusive working environment and get insights in different aspects related to interaction, collaboration, and leadership. In this workshop, you will...
Understand individual diversity traits, the impact on how we perceive others and are perceived by others
Learn about different working styles, values and norms and their impact on (virtual) collaboration 
Get to know recognising and solving conflicts that arise from diversity, addressing discriminatory communication and actions
This virtual workshop will be part of the HBP Student Conference. Registration closed 14 February. 
Contact: Karin Grasenick (karin.grasenick[at]convelop.at)
---
Diversity in research
---
22 April 2022 | 16:00-17:30 CET
Next session: 3 October 2022 | 14:00-15:30 CET
Considering sex/gender and other diversity aspects like e.g. age, ethnicity, culture, etc. has been recognized as relevant for new scientific insights. Therefore, it has become a requirement by default for the Horizon Europe programme. This module will explore diversity definitions and operationalisations, how diversity can be incorporated in research design and publication practices, interdisciplinary research. In this workshop you will...
Learn awareness of biases and their impact on scientific priorities and findings (which priorities are set, male bodies as norm, female as deviations, missing data on minorities)
Understand definitions of gender, diversity, intersectionality and how to operationalise them in specific fields of science
Get to know how to apply gender and diversity in project design and research processes
Contact: Karin Grasenick (karin.grasenick[at]convelop.eu)
---
Ethics and RRI dimensions of knowledge transfer & commercialisation 
---
Next session: 24 May 2022 | 13:00-16:00 CET
This module takes the form of an interactive workshop that explores the ethical and RRI dimensions of knowledge transfer, collaborations with industry partners, and the commercialization of research findings. The module is co-developed with the HBP Innovation Team and will introduce criteria and assessment procedures that shall help participants to identify key ethical and social issues related to the exploitation, commercialisation and international transfer of research findings and innovations from HBP and EBRAINS. The module is designed for researchers, staff and managers from the HBP and EBRAINS, including PhD students and postdocs, as well as partners from industry and other projects and universities. Participants will learn to apply insights from the module to their work and to develop a strategy and plan to respond to identified issues and to address these in the context of future planning and decision making. 
Contact: Achim Rosemann (achim.rosemann[at]dmu.ac.uk)
---
Foresight and anticipation of social & ethical issues
Next session: 26 October 2022 | 13:00-16:00 CET
Foresight, the ability to anticipate possible future developments and plan your actions based on this knowledge, is key to developing research in societally desirable directions. 
The module is a 1/2 day workshop format that consists of a mixture of lectures and practical exercises. Participants are first introduced to foresight theory in RRI as well as neuroethical and societal issues. Thereafter, they are presented with cases and examples of possible long-term societal and ethical implications of brain research and an overview of approaches to anticipate these issues and implications.
Through practical exercises, the participants will learn how to systematically think through future societal implications of neuroscience and of their own scientific work by working hands-on with a foresight tool (developed as part of the RRI toolkit for EBRAINS) and by developing future neuroscience scenarios.
Contact: Francisca Nordfalk (fn[at]tekno.dk)
---
Human data in EBRAINS - Governance & compliance 
*16 May 2022 registration open! 
---
Next session: 16 May 2022 | 14:00-17:00 CEST
Brain research generates and applies big, multidimensional and multifunctional data with different levels of sensitivity. The usability, quality, integrity, availability and security of these data are critical to excellent neuroscience research and innovation. To ensure these, EBRAINS has developed a responsible data governance framework/structure anchored on people, processes and technology to ensure FAIR data principles as well as Compliance. In this training, the nature of this framework and its practical applications in EBRAINS data processing workflows will be discussed.
The module will introduce a number of ethical compliance and data protection issues related to human data processing in neuroscience research, particularly issues raised by data processing activities in EBRAINS (such as informed consent, pseudonymisation, data controllership and data security). Participants will learn how to address these issues in ways that are socially acceptable, ethically responsible and legally compliant.
Register to participate on 16 May
Contact: Damian Eke (damian.eke[at]dmu.ac.uk)
---
Introduction to neuroethics in EBRAINS: methods & content
---
More information coming spring 2022
Contact: Arleen Salles (arleen.salles[at]crb.uu.se)
---
Introduction to public engagement
*15 June 2022 registration open!
---
15 June 2022 | 13:00-16:00 CET
Next session: 14 December 2022 | 13:00-16:00 CET
The module is held in a hands-on workshop format and provide an introduction to the theory and practice of public engagement and citizen participation. It shows the aims and outcomes one can achieve with the different public engagement methods. Participants are trained in how to choose engagement methods that fit the desired outcome and will be trained in how to engage different types of stakeholders, from experts to laypeople. Furthermore, participants will work together in smaller groups to design and plan an engagement process by working with provided templates, that will be made available for the participants to use later on in their own work.
Register to participate on 15 June
Contact: Lise Bitsch (lb[at]tekno.dk)
---
Introduction to RRI in EBRAINS
---
Next session: To be announced
Join us for a workshop on Responsible Research and Innovation in EBRAINS where we use the lens of Responsible Research and Innovation (RRI) to facilitate reflection on societal and ethical aspects of the EBRAINS research infrastructure. The workshop will...
Provide an overview of the RRI approach by highlighting its History, Definitions and the HBP RRI Approach.
Provide space for deliberation and critical reflection of work being undertaken in EBRAINS through the use of case studies 
Highlight tools and resources for responsible innovation in EBRAINS
Contact: Bernd Stahl (bernd.stahl[at]dmu.ac.uk)
---
Neuroethical reflection on consciousness and cognition
*16 November 2022 registration open!
---
16 November 2022 | 13:00-15:00 CET
Next session: To be announced
This course offers an overview of the state of the art neuroethical reflection about consciousness and cognition, with particular focus on two dimensions...
Foundational issues related to the definition of consciousness, including its possible operationalization in the clinical context and its implication for potential technological simulation/emulation.
Practical issues related to the detection of residual consciousness in patients with Disorders of Consciousness (i.e., Vegetative State/Unaware Wakefulness Syndrome, Minimally Conscious State, Cognitive-Motor Dissociation).
Register to participate on 16 November
Contact: Michele Farisco (michele.farisco[at]crb.uu.se)
---
Neuroethical reflection on personalised virtual brain models
*12 May 2022 cancelled
---
12 May 2022 | 13:00-15:00 CET
Next session: 9 November 2022 | 13:00-15:00 CET
Analyses of the personalised brain models developed in HBP with emphasis on validity, reliability, benefits and risks. The aim of the course is to provide comprehension of their nature and purpose, possible clinical and social applications.
Register to participate on 12 May
Register to participate on 9 November
Contact: Kathinka Evers (kathinka.evers[at]crb.uu.se)
---
Neuroethics and AI ethics 
*11 October 2022 registration open!
---
11 October 2022 | 13:00-15:00 CET
The Neuroethics and AI ethics course will offer an introduction to AI ethics and a specific analysis of the potential synergies between neuroethics and AI ethics. Taking brain-inspired AI as a case study the course will analyse two aspects in particular: emerging issues and methodology. The goal is to raise awareness of the ethical relevance of AI, and to introduce relevant conceptual tools for identifying and assessing them.
Register to participate on 11 October
Contact: Michele Farisco (michele.farisco[at]crb.uu.se)
---
Neuroethics in HBP and EBRAINS 
---
Next session: To be announced
The Neuroethics in HBP and EBRAINS course will offer essential introduction to the discipline, as well as analysis and justification of its relevance to EBRAINS. The goal is to increase the knowledge and understanding by EBRAINS users of neuroethical topics and methodologies in order to identify, assess, and better manage relevant ethical questions raised by the research and the use/exploitation of EBRAINS. 
Contact: Michele Farisco (michele.farisco[at]crb.uu.se)
---
Neuroethics, brain research and culture
---
15 March 2023
Next session: To be announced
Cultural diversity, including disciplinary diversity, raises several issues for science, particularly for neuroscience. It is crucial to recognize and assess these issues in order to maximize the scientific success, the public acceptance, and the societal benefit of a research project. The Neuroethics and culture course will analyse the specific issue of the interaction between cultural diversity and neuroethics, with the goal of providing the conceptual tools for advancing in the direction of a multi-cultural neuroethics.
Contact: Arleen Salles (arleen.salles[at]crb.uu.se)
---
Researcher awareness and integrity
---
25 May 2022
Next session: 22 September 2022
Contact: Manuel Guerrero (manuel.guerrero[at]crb.uu.se)
---
Understanding dual use of concern & misuse in the infrastructure 
---
24 February 2022 | 10:00-11:30 CET
Next session: To be announced
This workshop will introduce a novel approach to dual use of concern developed by the Ethics and Society team in the Human Brain Project. This approach goes beyond the traditional civil-military dichotomy understanding of dual use and considers broader societally beneficial and harmful uses including political, security, intelligence and military uses of concern. Participants will gain understanding of dual use of concern and misuse in brain research (including AI, robotics and computing), and learn about the ways to identify and address potential concerns and misuse issues. In order to do that, they will learn about approaches such as Responsible Research and Innovation and the AREA framework of anticipation, reflection, engagement and action.
This virtual workshop will be part of the HBP Student Conference. Registration closed on 14 February. 
Contact: Inga Ulnicane (inga.ulnicane[at]dmu.ac.uk)
---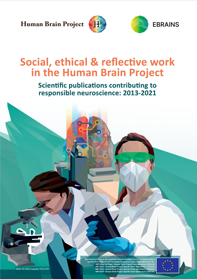 Social, ethical & reflective work in the HBP
We have compiled a list of all articles, books, and reports related to social, ethical and reflective work we have produced since the beginning of the Human Brain Project: October 2013. We hope it might be useful for those interested in how social science, ethics and philosophy can become driving forces in scientific and technological development. And ensure responsible research and innovation in both theory and practice. 

Register an Ethical Concern
Anyone can requests to address ethical, regulatory and social issues in Human Brain Project research. The POint of REgistration (PORE) is HBP's mechanism to register and identify these issues and keep track of how they are dealt with.