HBP at SfN Global Connectome
11–13 January 2021
The Human Brain Project was exhibiting at the
SfN Global Connectome
, which took place in a virtual environment for the first time.
The event was a cross-cutting neuroscience event, designed to facilitate scientific exchange across the globe and across the field, providing scientists at all career stages, of all disciplines, with opportunities to learn, collaborate, and connect.

If you wish to learn more about our
digital research infrastructure
, please visit our website
EBRAINS.EU
 or follow us on Social Media.
SfN SOCIAL
As part of the SfN Main Programme, HBP & EBRAINS have been invited to host an interactive Social event discussing the important factors and challenges of establishing a flourishing neuro-scientific community: 
EBRAINS the digital research infrastructure developed by the HBP is one of Europe's largest and fastest-growing scientific platforms available and the EBRAINS Community is starting to expand.
Take your chance to join, leverage existing linkages and accelerate your own research and career. Various EBRAINS Community ambassadors invite you to a dialogue on how the EBRAINS Community can support your work, how education offers can be utilized and how equality and diversity must be integrated.

Join the Social and explore the interactive Mural:
https://app.mural.co/t/hbpeducation2181/m/hbpeducation2181/
1610460783712/9901ef46d02dc0230cfff650e6d022b0d1276815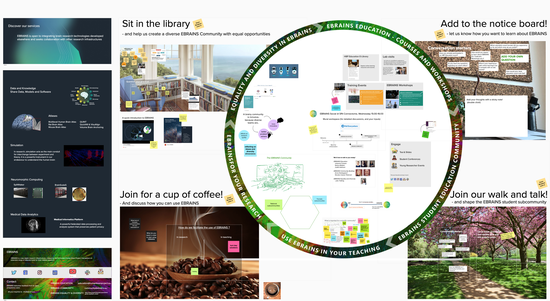 SESSIONS
As part of the HBP & EBRAINS Virtual Booth, we were hosting live presentations by HBP experts, discussing the following topics:
Wednesday, 13 January 2021
RELEVANT MATERIALS:
Documents to download:
Videos to watch: 
Further links: