Feb. 14, 2020
'Human Brain Project & Dutch Neuroscience: Shaping Collaborations'
On February 14th, over 100 neuroscientists and other interested guests from the Netherlands gathered for the HBP's event 'Human Brain Project & Dutch Neuroscience: Shaping Collaborations' in Amsterdam.
The event, a collaboration between the Human Brain Project & the University of Amsterdam was hosted by Prof. Cyriel Pennartz, leader of the HBPs research area Systems and Cognitive Neuroscience, exploring brain processes in learning, perception, sleep, and consciousness.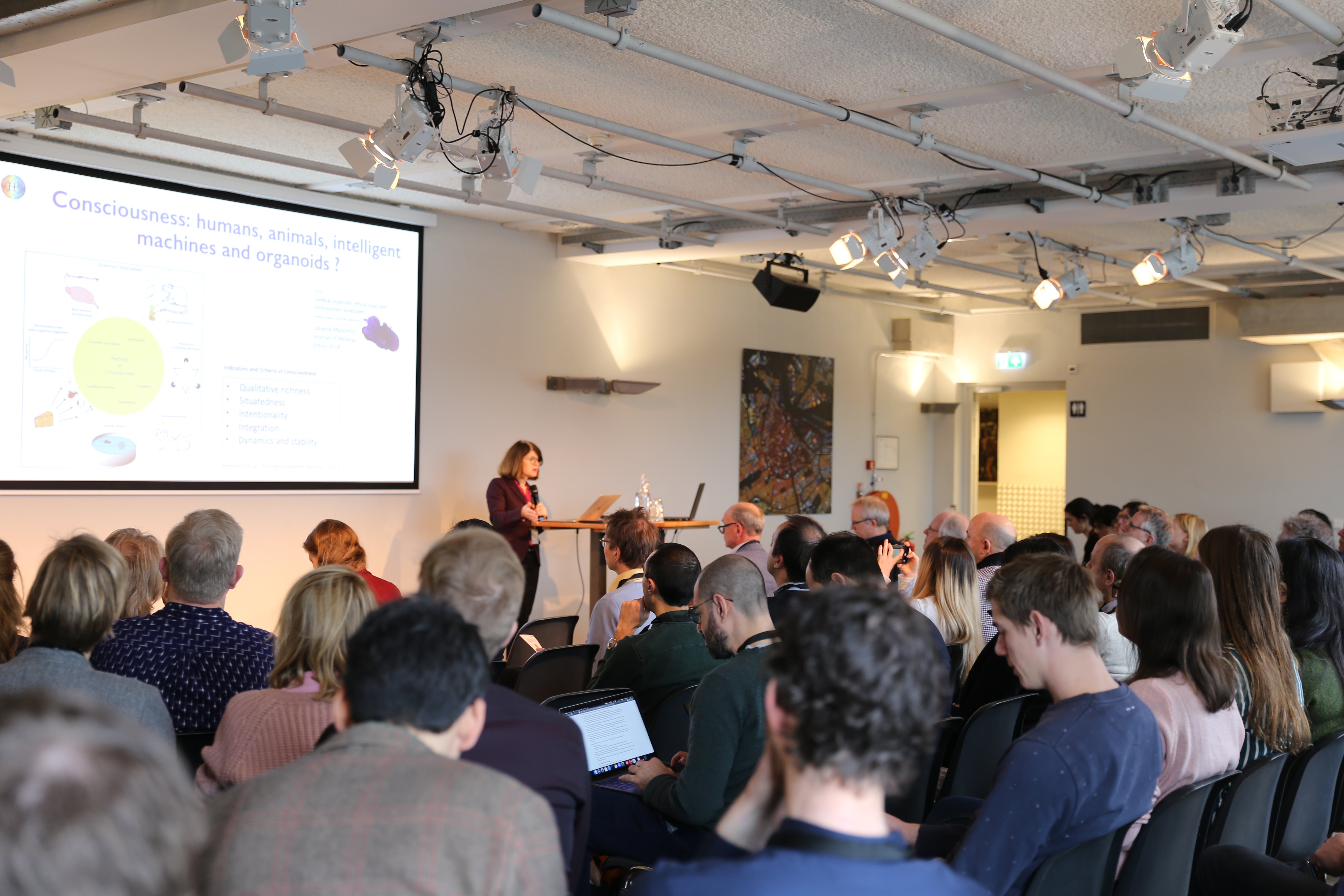 Speakers gave an insight into the Human Brain Project as one of the largest neuroscientific projects in the world, and highlighted opportunities for outside researchers to engage in the project's activities and make use of EBRAINS, the novel technological research infrastructure for neuroscience that the HBP is building in Europe.
Dutch partners have provided many important contributions and expertise to the HBP, including single neuron modelling, cognitive studies and neuroimaging, extremely precise data for the HBP Brain Atlas, links to robotics and AI, and neurotechnological innovations like a brain prosthesis for the blind.
In addition, Maastricht University hosted the highly successful HBP Summit and Open Day 2018. This event aimed to further increase the Dutch involvement.
Through presentations and a dedicated poster session, participants learned about HBP brain modeling and simulation workflows, ways of providing and using data and models on the EBRAINS platforms, as well as unique offerings in neurorobotics, medical informatics, usage of High-Performance and neuromorphic Computing and more.
The HBP presentations were followed by talks by scientists from a range of other Dutch research organizations not yet involved in the HBP. Among them were the Dutch Brain Bank and the universities of Groningen, Utrecht and Tweente.
@HumanBrainProj Today, @De_Zwijger in Amsterdam has become a meeting point for @HumanBrainProj experts and Dutch neuroscientists! @ebrains_eu and its usability for neuroscientists will be introduced by HBP experts, coupled with talks by Dutch researchers. — Chris Ebell (@HBPExecDir) February 14, 2020
@HumanBrainProj Today, the @HumanBrainProj meets Dutch Neuroscience. It's all about #ShapingCollaborations and the capacities of @EBRAINS for Dutch researchers. To kick off Prof. Cyriel Pennartz is welcoming and introducing participants. — Chris Ebell (@HBPExecDir) February 14, 2020
@HumanBrainProj We started the @HumanBrainProj & Dutch neuroscience: shaping collaborations event! @KatrinAmunts presents the new perspectives for brain sciences! #amsterdam #HBP — Chris Ebell (@HBPExecDir) February 14, 2020
@HumanBrainProj Prof. Katrin Amunts introduces the HBP and new perspectives for #brainsciences, Alastair Thompson opens up the view on National Engagement & #ShapingCollaborations, and Jan Bjaalie talks about HOW & WHEN to make use of @ebrains_eu services. — Chris Ebell (@HBPExecDir) February 14, 2020
@HumanBrainProj The first part of today's agenda focused on HBP experts and leadership presenting @ebrains_eu , demonstrating the capacities and opportunities for engagement of researchers in the project's activities. Next on the agenda: more in depth views on data, models and platforms. — Chris Ebell (@HBPExecDir) February 14, 2020
@HumanBrainProj Participants learn about different topics like HBP #brainmodeling and #simulation workflows on @ebrains_eu , providing and using #data & models, #HPC, and new concepts to integrate neuroscience using HBP platforms. #ShapingCollaborations — Chris Ebell (@HBPExecDir) February 14, 2020