Nov. 2, 2020
Human Brain Project announces new Innovation newsletter
The Human Brain Project is pleased to announce a new HBP Innovation newsletter which will be released every two months.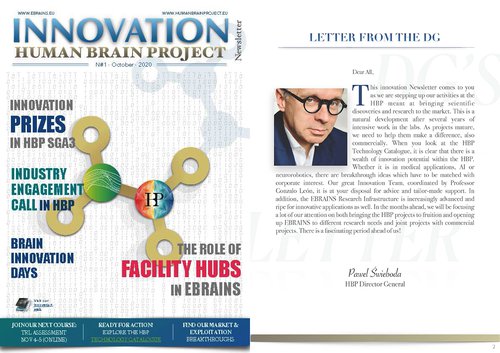 "This first edition of the HBP Innovation newsletter comes to you as we are stepping up activity to bring the Human Brain Project's scientific discoveries and research to the market", said HBP Director General and CEO of EBRAINS AISBL, Pawel Świeboda. "When you look at the HBP Technology Catalogue, it is clear there is a wealth of innovation potential within the HBP. Whether it is in medical applications, AI or neurorobotics, we have many breakthrough ideas which we are keen to engage with industry on and attract corporate interest and investment."
Click here to read the first HBP Innovation newsletter.
The first edition of the newsletter features the following sections:
Innovation Prizes in HBP SGA3
Nvidia Arm Acquisition
Intel Robotic Arm
The Role of Facility Hubs in EBRAINS
Industry Engagement Call in HBP SGA3
TRL Assessment Courses
Introducing the UPM Innovation Team
Brain Innovation Days - Showcasing Brain-Inspired Computing
If you would like to subscribe to the HBP Innovation newsletter, please click here.

Further reading:
Read more about Innovation in the Human Brain Project here.