Nov. 7, 2017
HBP at SfN17
The HBP has booth 3625 at the world's biggest gathering of neuroscientists.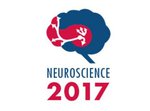 The Human Brain Project is back at the world's biggest neuroscience conference: The Society for Neuroscience (SfN17) in Washington DC from 11-16 November.
The annual conference attracts more than 30,000 visitors over five days.
You can find a list of all the HBP presenters, their poster topics and times here or download the pdf on the right.
If you are at the conference come and find us at booth 3625. We have created a comfortable space to sit, talk, listen and learn. You can find out more about the HBP and enjoy a cup of coffee.
Visitors will be able to meet and talk to some of our HBP scientists - who will also be presenting some of their work.
We will also be updating events and news from the conference here on the website, on facebook and on twitter (@HumanBrainProj).
Click here for the pdf of the HBP's schedule of presentations at #SfN17

Download the latest brochure about the Human Brain Project