Feb. 6, 2020
Greek President Pavlopoulos at the Human Brain Project Open Day
On February 3rd, hundreds of visitors joined the HBP Open Day 2020 in Athens to get an insight into the Human Brain Project and EBRAINS, the new infrastructure for connecting neuroscience and technology in Europe. This year it was hosted by Prof. Yannis Ioannides of the Athena Research and Innovation Center. The project was honored by a visit and welcoming address from the President of the Hellenic Republic, H.E. Prof. Prokopis Pavlopoulos.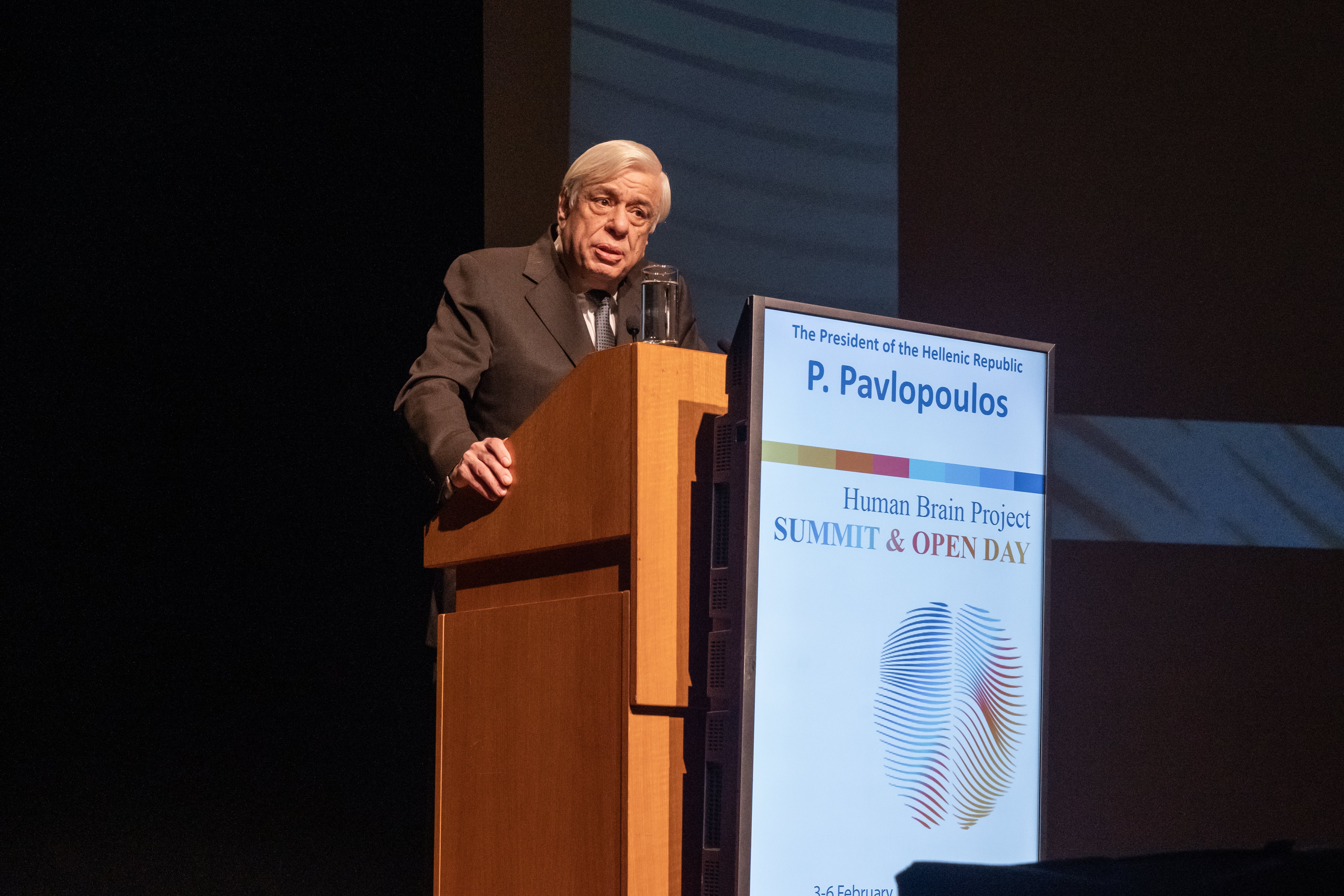 President Pavlopoulus delivered his opening address, emphasizing the great opportunity stemming from greater links between Artificial Intelligence and neuroscience – not least for understanding the brain itself and for advances in neuromedicine. (Read more)
He was followed by an address from Athanasios Kyriazis, General Secretary for Research and Technology of Greece.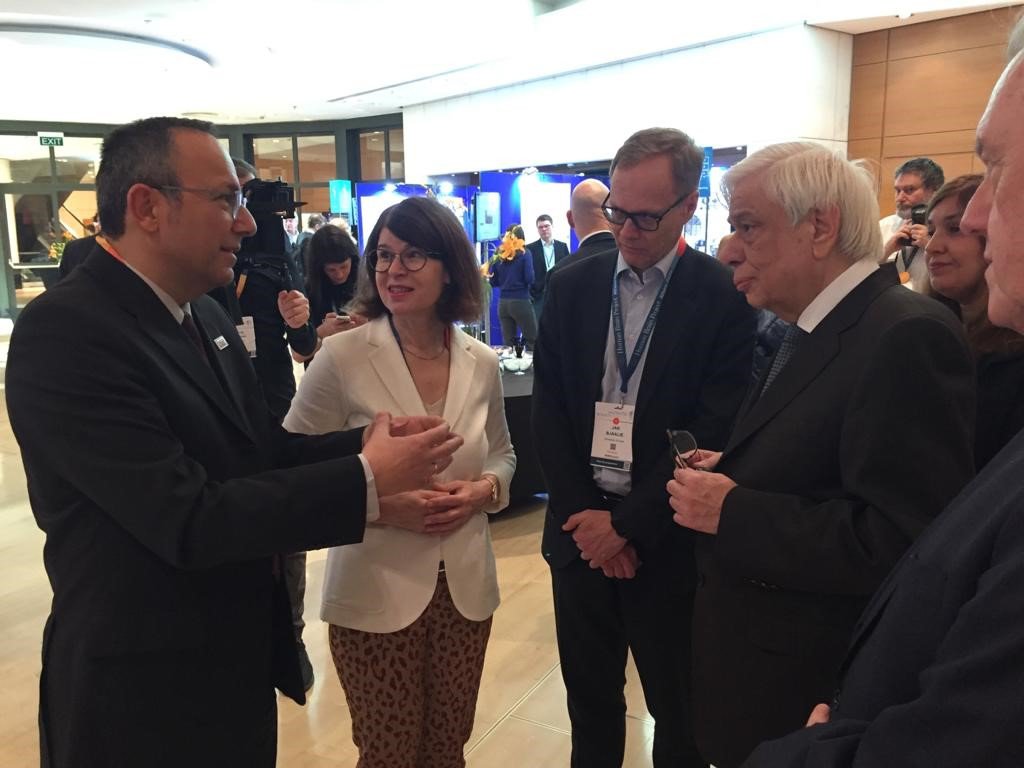 Before the formal opening of the event, both guests visited the HBP "Science Agora", an exhibition presenting the HBP's research areas. They were accompanied by host Yannis Ioannidis, HBP Scientific Research Director Katrin Amunts, and HBP Infrastructure Operations Director Jan Bjaalie.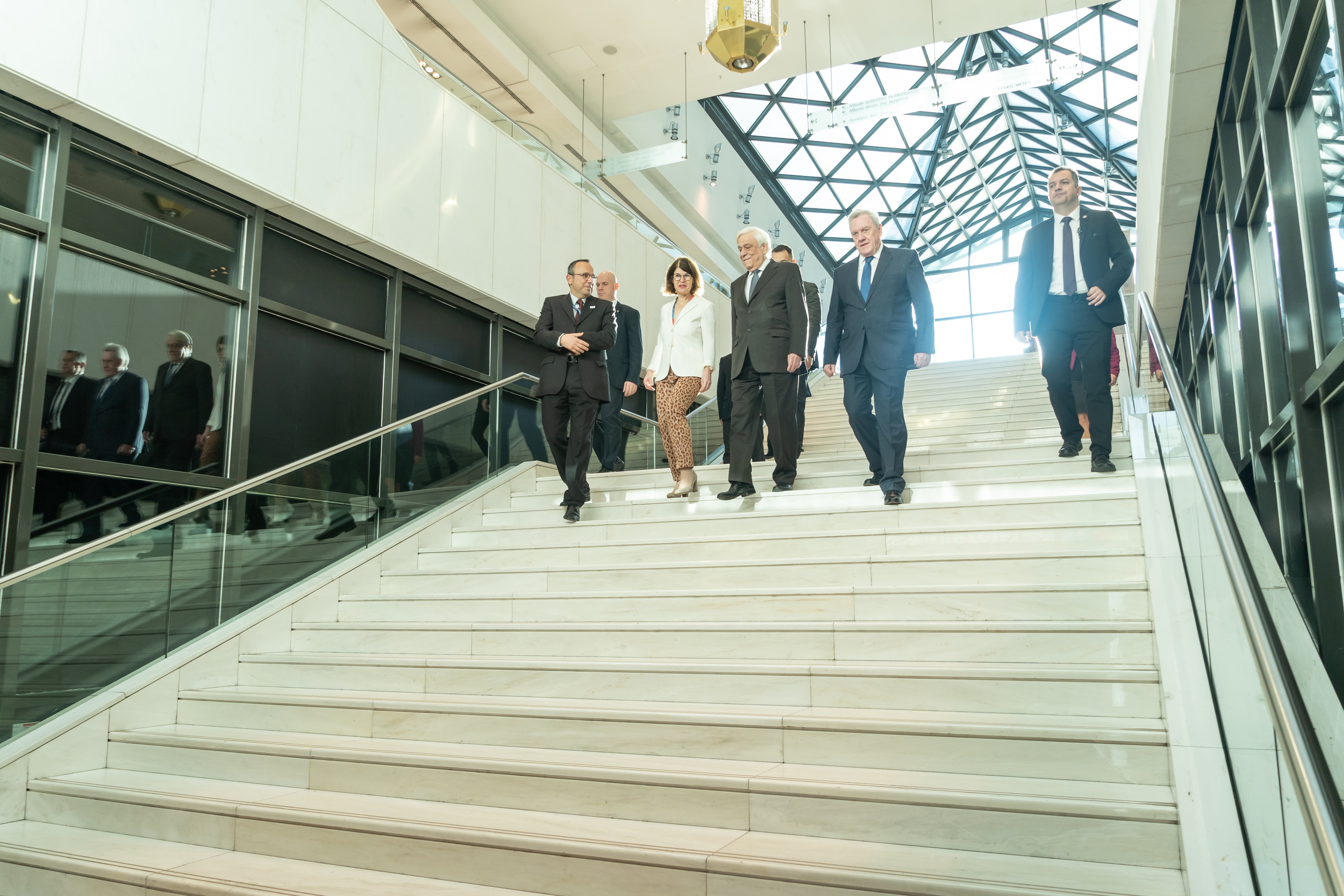 Arrival at the venue, from the left: HBP Summit and Open Day host Yannis Ioannidis, HBP Scientific Research Director Katrin Amunts, President Pavlopoulus, and Athanasios Kyriazis.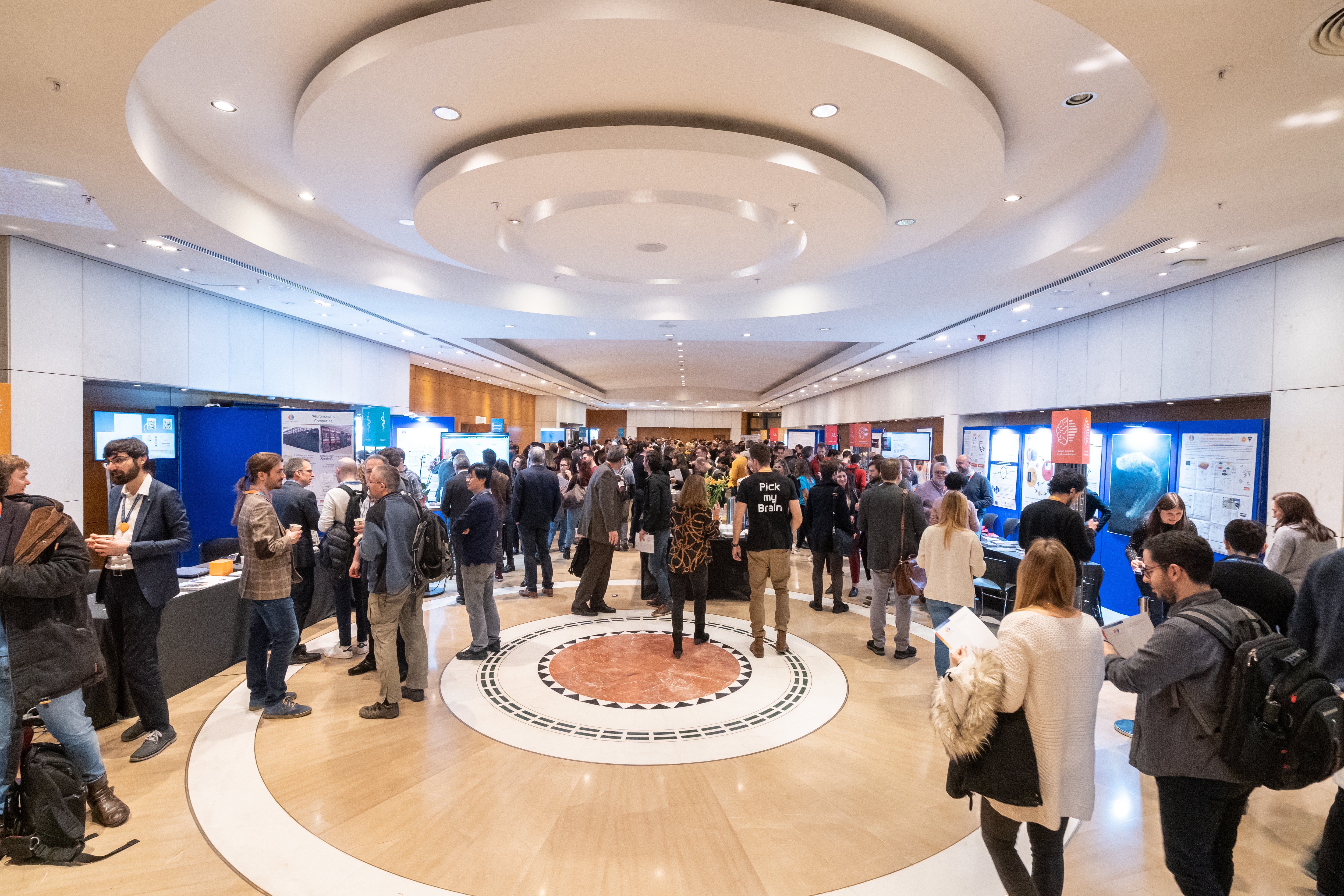 The Science Agora and Open Day talks from eminent European and international brain scientists attracted many visitors, from the Greek neuroscience and technology community outside the HBP, to students and the general public.
The successful Open Day was followed by the 3-day Human Brain Project Summit, the annual full meeting of the HBP, which unites the work of more than 500 scientists from 132 institutions in 19 countries.
The #HBPOpenDay2020 kicks off with Welcome remarks from Yannis Ioannidis of @athenaRICinfo & @uoaofficial

February 3, 2020
Prof. Dr. Katrin Amunts, Scientific Director of the Human Brain Project, gives an overview of the HBP at the #HBPOpenDay2020

February 3, 2020
Prof. Jan Bjaalie presents EBRAINS, a new collaborative platform for neuroscience research. Follow EBRAINS at @ebrains_eu Learn more about EBRAINS: http://ebrains.eu #HBPOpenDay2020

February 3, 2020
We have an AMAZING turnout for the Science Agora at the #HBPOpenDay2020 ! Learn about the booths you can visit here: https://humanbrainproject.eu/en/follow-hbp/news/science-agora-at-the-hbp-open-day-booth-overview/

February 3, 2020
Christos Papadimitriou, Professor of Computer Science at Columbia University, delivers his Keynote lecture, 'Language Brain and Computation', at the #HBPOpenDay2020 "Language is our greatest hope of understanding the brain."

February 3, 2020
The 'Brain initiatives around the world' panel session is underway with Konstantin Anokhin, Gaute Einevoll, Kathinka Evers, Vasiliki Mollaki, Mu-ming Poo, Linda Richards, Pedro Valdés Sosa, and Wolf Singer at the #HBPOpenDay2020

February 3, 2020
Jan Hrušák from @Akademie_ved_CR speaks about the @ESFRI_eu roadmap during his "Research infrastructures as hubs of knowledge" presentation at the #HBPOpenDay2020

February 3, 2020