Jan. 14, 2021
Event Recap: HBP & EBRAINS at SfN Global Connectome
As of yesterday, the Society for Neuroscience has officially closed its first ever SfN Global Connectome. The event was designed to facilitate scientific exchange across the globe and across the field, providing scientists at all career stages, of all disciplines, with opportunities to learn, collaborate, and connect. As an exhibitor, the Human Brain Project wanted to share a few highlights of its participation.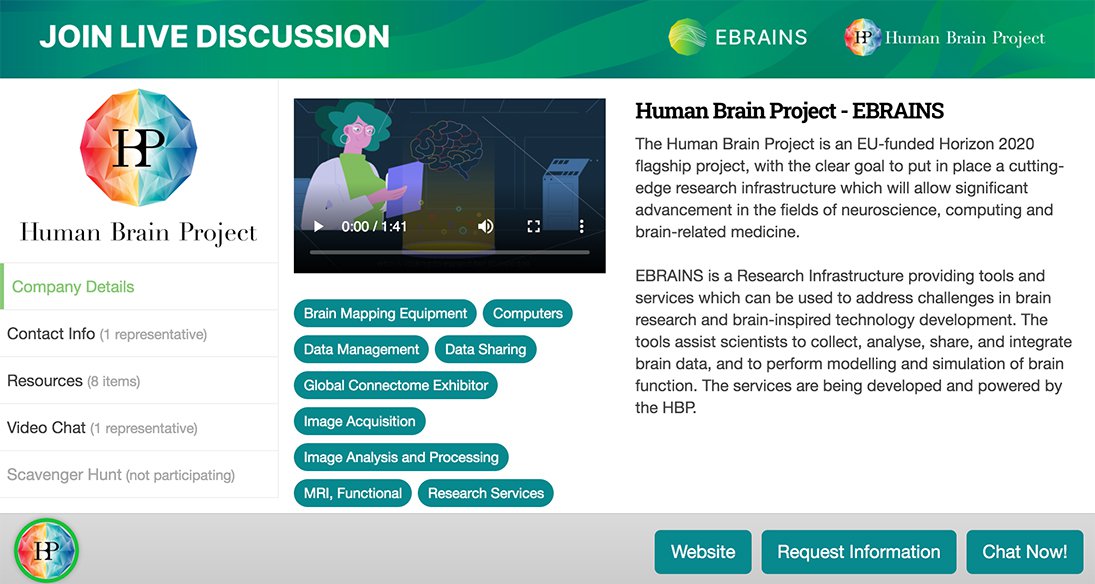 At the event, the HBP and EBRAINS were present with a virtual booth and were joined by key HBP stakeholders to showcase latest developments and research results within the project:
Introducing EBRAINS: European infrastructure for brain research presented by Wouter Klijn (FZ Juelich)
EBRAINS Community Building presented by Anna Kierkegaard & Nicolas Caesar Petersen (Danish Board of Technology)
EBRAINS Data Sharing presented by Ida Aasebø, Eszter Agnes Papp, Camilla Blixhavn & Ulrike Schlegel (University of Oslo) and the HBP Compliance Team William Knight, Damian Eke & Simi Akintoye (De Montfort University)
Computational Resources for Neuroscientists presented by Anne Nahm (FZ Juelich) and Alex Upton (CSCS)
EBRAINS Collaboratory presented by M.Morgan (EPFL)
EBRAINS Knowledge Graph presented by Oliver Schmid (EPFL)
The HBP Neurorobotics Platform: from closed-loop neuroscience to embodied AI presented by Fabrice Morin (Technical University Munich)
Of mice, men and machines: Exploring the diversity of research objects and target groups in neuroscience presented by Karin Grasenick (convelop)
Spiking Simulation Models and Tools presented by Dennis Terhorst (FZ Juelich)
Designing analysis workflows for electrophysiology and network simulation using Neo and Elephant presented by Michael Denker (FZ Juelich)
Furthermore, the HBP Community Ambassadors have been accepted to host an official SfN Social called "Become part of a brainy community". For one hour, participants could join interesting discussions about diversity & gender issues, student community matters and share their input on how to establish a flourishing research community. They also received information on the HBP Education Programme offers and how to learn to use EBRAINS.
Most presentations are available for download, so please visit the event page or the
HBP Education Programme E-Library for more information.
And, if you want to stay up to date with news about the HBP & EBRAINS, consider signing up to our monthly newsletter here.