Sept. 29, 2020
Event Recap: HBP & EBRAINS at Science is Wonderful! 2020
After the successful debut of the virtual Science is Wonderful! exhibition, as part of the European Research & Innovation Days, the Human Brain Project wanted to share just a few highlights of the European Commission's flagship event bringing together policymakers, researchers, entrepreneurs and citizens to debate and shape the future of research and innovation in Europe and beyond.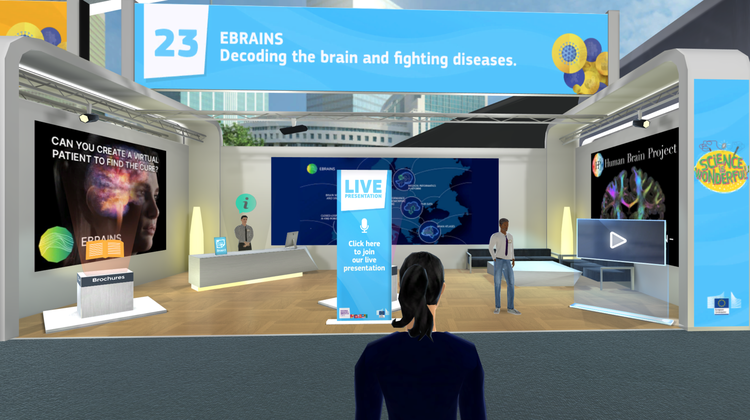 This year's online format provided an opportunity to connect, take stock of research and innovation achievements in the global response to the pandemic, and build on the EU's response: worldwide coordination of excellent science for global health, social, and economic recovery. An incredible 10,000 visitors including 5,000 pupils attended the conference to discuss and explore Europe's most aspirational research projects, and the HBP used this opportunity to present EBRAINS and engage with different audiences, from younger generations to the general public and researchers, interested in brain science and technology.
The following sessions took place:
Can you create a virtual patient to find a cure? Curated by Petra Ritter from the Charité Berlin and Viktor Jirsa from Aix-Marseille Université.
EBRAINS – Decoding the brain and fighting diseases. Curated by Ida Aasebø and the Curation team at the University of Oslo
Who was the better brain – Humans or Computers? An interactive quiz curated by multiple contributors across the HBP, coordinated and presented by Ingrid Reiten, Alice Geminiani and Sandra Diaz.
If you missed our sessions or would like to share them, you are welcome to check out our recordings and the interactive quiz here: https://www.humanbrainproject.eu/en/ridays2020/