Calls for Expression of Interest for SGA2
Best Scientific Research Project that integrates diversity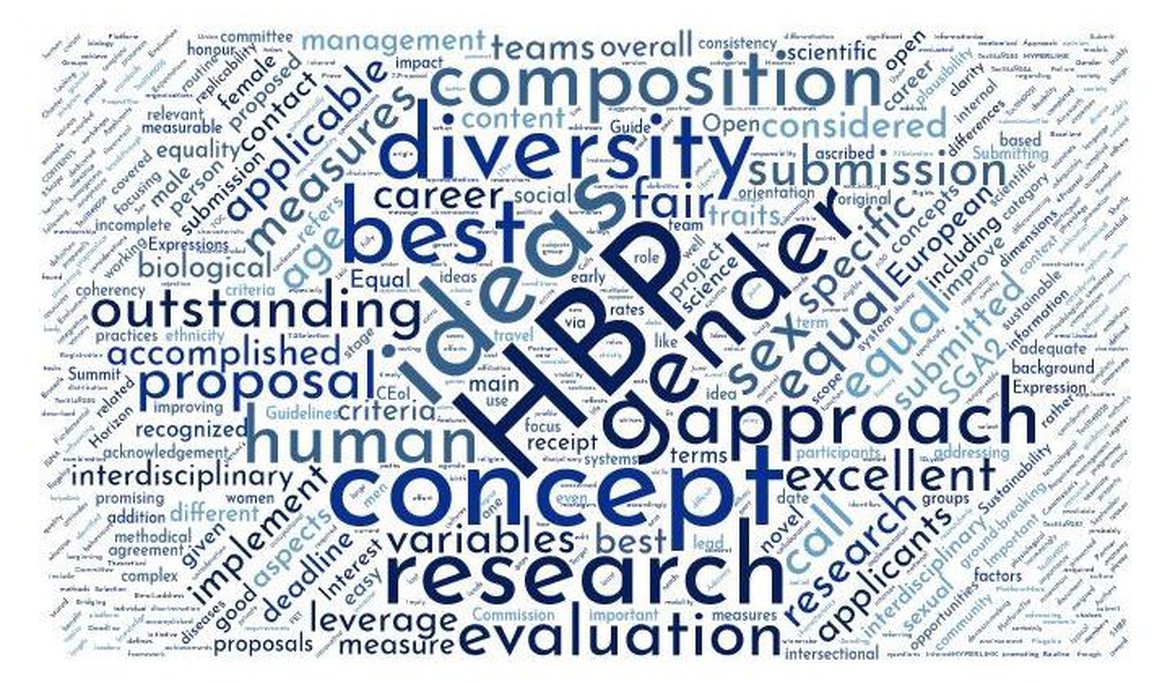 You are an early stage researcher with a scientific project that integrates aspects of sex, gender and/or further diversity traits. You want to present your novel approach to a broader audience.
The HBP Best Scientific Research Project that integrates diversity will honour projects for integrating sex, gender and further diversity dimensions (see also H2020 Guidelines)
An internal jury will select the most outstanding and promising projects, which will be presented at the HBP Summit to a large scientific audience and representatives of the European Commission. Registration and travel expenses will be covered.
More information is available via the website Diversity and Gender Equality Activities or info@opencalls.humanbrainproject.eu.
Diversity and equality have been increasingly recognised as benefit for research and society. For complex tasks, a diverse team may achieve better outcomes than a homogenous group.
Gender and other diversity aspects are not only important for teamwork but can also be important elements in scientific research projects that might lead to additional insights and knowledge or far-reaching results. The importance of inclusion of diversity variables, like gender dimensions, in research projects, has been widely recognised, for example in the Horizon 2020 programme.
The HBP would like to increase the visibility of researchers at the beginning of their career, researchers who are interested in developing concepts for improving gender equality, including diversity, creating role models and best practices on improving equal opportunities.
This Call for Expression of Interest (CEoI) invites applications for the following categories in management and science:
1)    Best Ideas and Measures to improve equal opportunities in scientific research teams or in the overall HBP
The HBP will honour the best ideas and measures that focus on improving equal opportunities in various settings; we strive to implement these best practices in the HBP.
2)    Best Scientific Research Project that integrates diversity (sex, gender, further intersectional variables like age, specific diseases etc.)
The HBP will honour research projects for integrating sex, gender and further diversity dimensions in their research design (see also H2020 Guidelines).
More information is available via the website Diversity and Gender Equality Activities or info@opencalls.humanbrainproject.eu
Agreement and Disclaimer
By submitting a proposal, all applicants agree that:
 Any incomplete proposal will not be considered;
Each of the applicants has given her/his consent for the proposal and is committed to present it at the HBP Summit or different conference of choice in case of acceptance, registration and travel cost of winners will be covered;
Each applicant has read the HBP Guidelines "Call for Expression of Interest for HBP Best Concepts and Ideas for Diversity in Research and Management SGA2" and does not oppose any of the requirements defined.
_______________________
_______________________
Background on the Calls
The Human Brain Project (HBP) aims to bring a large number of users to the HBP-Joint Platform  to make it even more attractive for the external science community and to foster new collaborations across the full width of the HBP's Subprojects. To achieve this, a substantial amount of funding has been made available in the next two-year funding period (the SGA2) for partner organisations to help contribute.
The HBP has asked potential new Partners to submit proposals (see recently closed calls below) that will directly contribute to the development of the HBP Platforms and increase the scope of their application, in terms of neuroscience and clinical research. The selected Partners will become full Partners in the HBP Consortium.  The projects will run from April 2018 to March 2020 (SGA2 phase).
Please note that for some of the CEoIs, current Partners of the HBP Consortium are explicitly invited to write a proposal with new Partners and apply together. Details will be explicitly laid out in the Guide for Applicants.
Frequently Asked Questions
Read our Frequently Asked Questions page.
SGA2 CEoI evaluation Process
Independent external evaluators will assess the submitted proposals. This remote evaluation process will be followed by a physical panel meeting, which will make the final selection.
The selected projects will be funded via the European Commission grant for SGA2.
The CEoI are managed by the Technische Universität München (TUM) together with the coordinator Swiss Federal Institute of Technology Lausanne (EPFL) on behalf of the HBP Consortium. Applications will be received through the ECHORD++ system, kindly provided by TUM.
Recently Closed Calls
HBP Schools for SGA2
HBP Workshops 2018
Co-designing the HBP digital infrastructure for advancing the understanding of multilevel brain organisation
Coordination of Data Protection in the HBP
Modelling allosteric drugs
Coordination of gender equality activities
Comparative single cell analyses of principal neurons and Interneurons in mice and humans