Oct. 10, 2018
Booth Overview: HBP Science Market at the Open Day
Press Release 10 October 2018
Only five days to go until the HBP Open Day, October 15 in Maastricht. A particularly exciting part of the Open Day is the Science Market, where HBP members present their work in neuroscience, novel computing (e.g. with brain-inspired neuromorphic chips), neurorobotics and more in eight booths, with interactive demonstrations and experiences. You can read more about them below.
The Open Day is free to the public. For more information and to register for the event, please visit https://www.hbpopendaysummit-2018.org. You can also download the Open Day flyer including a booth overview for the Science Market here.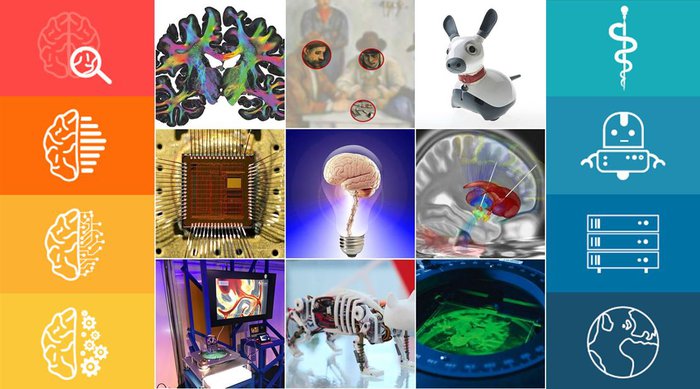 Silicon Brains Run an experiment interactively on one of the physical neuromorphic compute systems (SpiNNaker and BrainScaleS) exhibited at the booth and learn more about this novel type of computing.
Social, Ethical, Reflective Learn more about social & philosophical research and ethical issues raised by HBP, how you can collaborate, available training opportunities and the HBP's vision on equality, diversity and innovation.
Brain Simulation From the lab via theory to data-driven simulations and back again. How can you join or benefit from this loop?
Explore the Brain EXPLORE the mouse and human research data produced in the HBP. DISCOVER how you can SHARE, FIND or USE data through the HBP Neuroinformatics Platform.
Medicine From research to medicine, discover how the Human Brain Project impacts diagnosis, treatment and healthcare, using federated data analysis and state-of-the-art computing technologies.
Massive Computing Discover how we enable neuroscientists to run large-scale, data-intensive, interactive brain simulations and complex workflows comprising simulation, data analysis and visualisation workloads.
Robotics Closing the loop between environment and models of cognition via robots allows to test hypotheses of how the brain represents space, selects movement, and predicts sensory consequences of action.
Understanding Cognition Imagine an apple — its greenness, sour taste and its fresh crunch; how does the brain create a representation of such an apple? Learn more about learning, perception, sleep and consciousness.