July 6, 2018
International Brain Initiative gains more momentum
Geneva, 5 July, 2018
Representatives of the International Brain Initiative (IBI) met on July 5, in Geneva, to further cooperation between the world's major brain research projects.
The meeting was hosted by the European Commission's Human Brain Project with facilitation from The Kavli Foundation and École Polytechnique Fédérale de Lausanne (EPFL). The international brain leaders met to discuss key progress and strengthen the establishment of the IBI and its Working Groups.
The leaders affirmed their willingness to create a joint inventory of resources for neuroscience and brain related research.
Professor Jan Bjaalie, representing the Human Brain Project (Europe), said: "Commitment and goodwill from all participating nations has been the key driver in the global effort to establish the International Brain Initiative."
"It's impressive to see how far we have come as the world's brain research community in the short period of time since the Declaration of Intent to establish the IBI in December 2017."
The progress at the Geneva meeting follows the achievements of the May 2018 IBI Summit in Daegu, Korea, which included the drafting of the Vision and Aims of the IBI and discussion of existing and emerging working groups.
The Geneva meeting confirmed a broad consensus around the IBI's vision to:
'Catalyze and advance ethical neuroscience research through international collaboration and knowledge sharing, by uniting diverse ambitions to expand scientific possibility, and disseminate discoveries for the benefit of humanity'.
The Geneva meeting also heard updates on the IBI working groups, including neuroethics, data sharing & standards, tool & technology dissemination, training & education, communication & outreach, and the IBI Coordinating Body framework.
The next IBI meeting will be a virtual meeting in September 2018, followed by a face-to-face meeting in San Diego in November 2018.
Media Contact:
Peter Zekert
Human Brain Project
Public Relations Officer
Tel.: +49 (0) 2461 61-85175/-9486
Email: p.zekert@fz-juelich.de
 -------------------------------
The International Brain Initiative:
The Declaration of Intent to establish the International Brain Initiative was announced on 8 December 2017 at a meeting of representatives from some of the world's major brain research projects, supported by The Kavli Foundation and hosted by the Australian Academy of Science in Canberra.
The Declaration, made by representatives from Japan, Korea, Europe, the United States of America and Australia, is designed to speed up progress on 'cracking the brain's code'.
Other members nations now include China, Canada and Israel.
The International Brain Initiative aims to:
promote coordination and leadership among scientists, in large-scale programs, and in innovative funding solutions,
transcend borders, between countries, research fields, and global research efforts,
share and disseminate knowledge, amongst citizens, and between researchers to accelerating discovery and drive translation
shape the future of international collaborations, and ethical practice in neuroscience.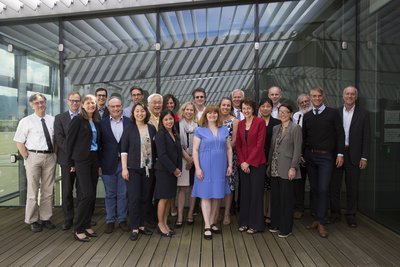 Representatives of the International Brain Initiative met in Geneva on July 5 to further their vision of cooperation and collaboration to unlock understanding of the brain. Photo credit: ©Human Brain Project 2018 / Arantxa Cedillo