The Human Brain Project's impact on innovation
27 September 2023
Exciting new industrial collaborations, spin-off companies, patents and (ongoing) clinical trials have emerged from or are built upon breakthroughs of the Human Brain Project. With the end of the project in sight, we look back on some highlights of the innovations that the HBP enabled or contributed to.
Patents for new drug candidates
The HBP-built digital infrastructure EBRAINS has allowed researchers to perform modelling and simulations on the molecular level. For example, HBP researcher Giulia Rossetti uses the EBRAINS and the Fenix infrastructure to investigate the efficacy of drug candidates to bind their targets and treat neurodegenerative diseases. She has successfully applied for patents on new drug candidates for central and nervous system (CNS) diseases. In addition, during the COVID-19 pandemic, she was part of a collaboration of several HBP partners called BRAVE, which used HBP's modelling approaches to investigate the molecular mechanisms leading to long COVID, the effects of COVID on the brain and how inflammatory reactions in the brain can be averted.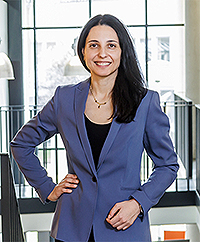 "By combining the strengths of both state-of-the-art molecular simulation and data science approaches, we aim to expand the effectiveness of conventional methods of drug discovery and to open up new perspectives for successful applications in CNS drug discovery."
Giulia Rossetti. Group leader of Drug Design Hub for Digital Neuropharmacology, Forschungszentrum Jülich and RWTH Aachen.
Spin-off company SpiNNcloud develops brain-inspired AI
The brain-inspired supercomputer SpiNNcloud was selected as one of the first breakthrough innovations by Germany's Federal Agency for Disruptive Innovation (SPRIN-D). The development of SpiNNcloud was made possible by research within the HBP on the SpiNNaker neuromorphic computing system. The next generation of SpiNNaker – SpiNNaker2 – was created by teams at TU Dresden and the University of Manchester, together with chipmaker GlobalFoundries and German chip design house Racyics. Commercialisation is already underway in the form of SpiNNcloud Systems GmbH, a spin-off of TU Dresden. SpiNNcloud Systems delivers solutions in brain-inspired AI, from small-scale edge nodes to the large-scale SpiNNcloud, composed of 70,000 SpiNNaker2 chips and thereby the largest platform for real-time AI worldwide. Industrial pilot projects with BMW, Infineon and others already use the new system. SpiNNcloud and SpiNNaker2 are advancing impactful AI models in computer vision, robotics, industry 4.0 and autonomous systems, where fast reaction times, low latency and energy efficiency are essential.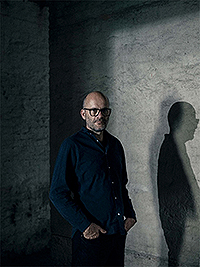 "SpiNNaker2 is a paradigm shift for AI. It brings data processing close to sensors and redefines the traditional central server paradigm, which makes machine learning faster, better and way more efficient. As machine learning is just beginning to enter our daily lives in medical technology, autonomous driving and robotics, SPRIN-D is seeing huge potential that SpiNNaker2 will disrupt the way we use AI."
Rafael Laguna de la Vera. Director of the German Federal Agency for Disruptive Innovation SPRIN-D.
Spin-off company VB-Tech develops virtual brain models
In 2022, SATT Sud-Est granted an exclusive worldwide license to the start-up VB-Tech for The Virtual Brain (TVB) technology developed by the INS (Institute of Systems Neurosciences) of Aix-Marseille University. The technology targets the treatment of brain pathologies and combines neuroscience, brain modelling and machine learning, which together have enabled a first clinical trial in epilepsy. Several patents were awarded for TVB applications. This use of computational modelling in the clinic has been pioneered by Viktor Jirsa within the HBP. With regard to the treatment of epilepsy, Jirsa co-created the Virtual Epileptic Patient (VEP), a virtual brain neuronal model which provides computer simulations of a patient's seizures and helps to identify where in the brain the seizures are most likely generated.  In 2021, Jirsa and his team won an HBP Innovation Award for this work. The award was handed out during the final HBP Summit 2023 in Marseille.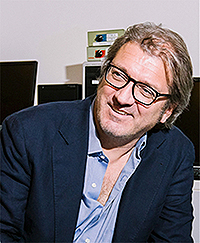 "The market potential of the Virtual Epileptic Patient is significant in a mid- and longer-term perspective."
Viktor Jirsa. Director of Institut de Neurosciences des Systémes at Aix Marseille University, France. 
Collaboration with Dassault Systèmes for epilepsy clinical Trial
The individual outcomes of surgeries in patients suffering from epileptic seizures can be hard to predict. The EPINOV collaboration has been working on improving epilepsy surgery through personalised brain modelling. The approach is currently being tested in a large-scale clinical trial in France. The collaboration involves industry partner Dassault Systèmes, the largest company for 3D experience in Europe. The clinical trial is expected to conclude in 2025. If successful, Dassault could provide the brain-modelling software as a product to clinics, with the aim of improving the outcomes of epilepsy surgery.
→ 3ds.com/stories/living-brain
Innovation to detect levels of consciousness in coma patients
Marcello Massimini from the University of Milan has developed an innovative approach for detecting consciousness in coma patients. The approach uses combined transcranial stimulation (TMS) and EEG measurements of brain waves to compute the so-called Perturbational Complexity Index (PCI), a clinical measure for distinguishing different levels of consciousness. It has been comprehensively refined, tested and advanced in the HBP. Together with Finnish company Nextstim, which specialises in targeted brain stimulation, Massimini's team has been testing a TMS-EEG prototype device in Milan. With support from the Tiny Blue Dot Foundation, TMS-EEG devices have been shipped to major US neurological hospitals, in preparation for a multi-centric clinical trial of the consciousness-measuring method. Recently, a spin-off was incorporated to facilitate the introduction of this method into hospitals. In 2022, Massimini and his team won an HBP Innovation Award for this work. The award was presented during the final HBP Summit 2023 in Marseille.
"We expect that successful clinical application in this field will make a significant difference and be the entry point towards the broader domains. It is likely that TMS-EEG and PCI-like applications turn out to be valuable in a much larger population of patients with focal brain injury."
Marcello Massimini. Leader of the HBP's Perturbational Complexity Index Team, University of Milan, Italy.
Collaboration with Intel for a neuromorphic breakthrough
In 2022, HBP researchers at TU Graz in Austria collaborated with Intel to bring AI closer to the energy efficiency of the brain. The team develops brain-inspired algorithms which can be implemented on spiking neuromorphic systems of the EBRAINS infrastructure or external industry collaborators. The latest result, an up to 16-fold decrease in energy demand on Intel's Loihi Chip, was published in Nature Machine Intelligence. This demonstration is a major step toward new AI algorithms that function with only a fraction of the energy demand while exhibiting enhanced performance.
EPFL spin-off Onward Medical helps paraplegic people walk again
Onward Medical is a spin-off of HBP Partner EPFL that develops a treatment for people with paralysis after spinal cord injury using targeted electrical stimulation through a neuroprosthetic implant. Within the HBP, the research team behind this approach created simulation models of spinal circuitry that are used to guide the placement and design of the electrodes. This early cooperation has contributed to a series of sensational breakthroughs with this approach. Today, even patients with complete sensorimotor paralysis have been helped to regain their movement. In 2021, Onward Medical made the major step of becoming listed on the European Stock Exchange Euronext.
→ onwd.com
 
Video: HBP Summit 2023 - A computational approach to precision neurostimulation by Andreas Rowald
Andreas Rowald created simulation models of spinal circuitry as an HBP-funded researcher at the Lab of Gregoire Courtine at EPFL. Personalised models guide the placement in electrodes for each patient. Rowald now leads a group at Friedrich-Alexander-University (FAU) Erlangen-Nuremberg working on digital twin approaches for neurostimulation. His keynote lecture at the HBP Summit details the exciting outlook of therapeutic neurotechnologies.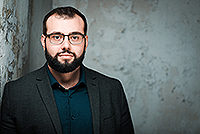 "I believe the computational model is not separate from, but an integral part, of the therapy. We absolutely need to make this happen, not just for deep brain stimulation, but across the entire neurostimulation market."
Andreas Rowald. Research group leader of the ProModell group at FAU.
NIN spin-off company Phosphoenix working to cure blindness
Blindness is curable – that is the credo of the Dutch company Phosphoenix, a spin-off by HBP Partner NIN Amsterdam. The company aims to commercialise an approach that uses direct stimulation of the visual areas in the brain to evoke visual perception via an implant. Connected to a camera, this can enable some basic vision functions for blind people. As final application in humans will require very precise knowledge of the structure and dynamics of the visual field, the team collaborates with brain mapping and perception researchers in the HBP. In 2022, Phosphoenix went into a successful pre-seed funding round and licensed NIN patents for the prosthesis design. During the final HBP Summit 2023 in Marseille, Director of the NIN and co-founder of Phosphoenix Pieter Roelfsema and his team received an Innovation Award for this work.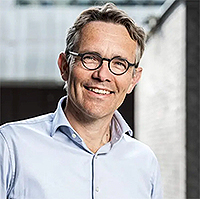 "I'm very grateful to the people of the HBP, who made this competition possible and whose help went far beyond only funding, in providing indispensable computational tools such as the virtual human brain atlas."
Pieter Roelfsema. CSO and co-founder of Phosphoenix.
This text was modified from the article Spotlights on Innovation first published in the booklet HBP – A closer look at scientific advances (pages 54 – 57).
Photo copyrights: Forschungszentrum Jülich (Giulia Rossetti); URL: sprind.org (Rafael Laguna de la Vera); Institut de Neurosciences des Systémes UMR 1106 (Viktor Jirsa); Russ Juskalian (Marcello Massimini); private (Andreas Rowald); Netherlands Institute for Neuroscience (Pieter Roelfsema).