New whitepaper on Fenix Research Infrastructure presents lessons learned in ICEI
31 March 2023
The Interactive Computing E-Infrastructure for the Human Brain Project (ICEI), a "sister project" of the HBP that is building an initial version of the Fenix Infrastructure under the umbrella of the HBP, has launched the whitepaper "Fenix e-infrastructure service provisioning – lessons learned". Addressed to e-infrastructure service providers or similar initiatives, it summarises current Fenix services, statistics on Fenix user communities and includes their feedback and lessons learned.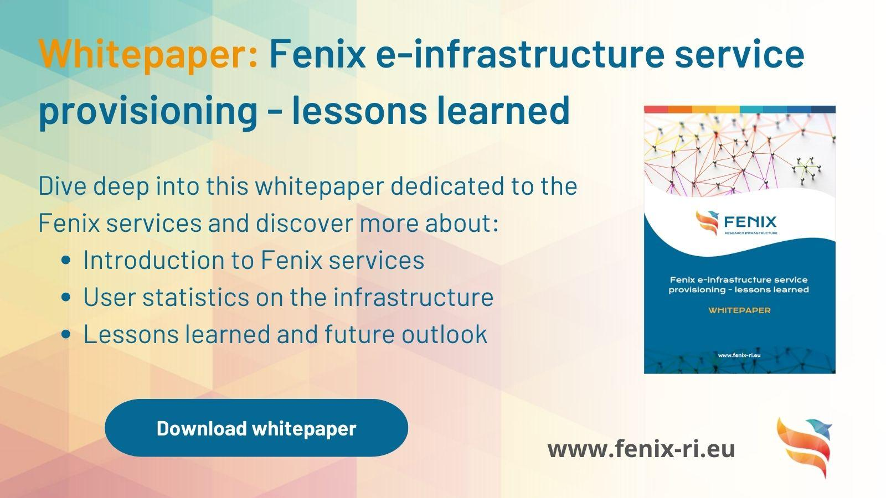 After the ICEI project started five years ago, the ICEI consortium and Fenix partners are publishing this whitepaper in order to share their experience in providing e-infrastructure services to European researchers from different research areas. "Other initiatives and e-infrastructure service providers, which offer services to multiple user communities from different scientific domains, may benefit from the lessons learned summarised in this whitepaper," says Anne Nahm, ICEI Project Coordinator from the Jülich Supercomputing Center (JSC). "In the document we identify a broad array of lessons learned based on the feedback collected from Fenix users, experiences and know-how obtained."
About ICEI/Fenix 
Five European supercomputing centres, namely BSC (Spain), CEA (France), CINECA (Italy), CSCS (Switzerland) and JSC (Germany), aligned their services to facilitate the creation of the Fenix Research Infrastructure, which provides European researchers with access to computing, cloud, and storage resources. An initial version of this infrastructure is currently being supported through the ICEI project (Interactive Computing E-Infrastructure), which is part of the European Human Brain Project (HBP) and EBRAINS. Fenix has received funding from the European Union's Horizon 2020 research and innovation programme through the ICEI project under grant agreement No. 800858. For more information, visit https://fenix-ri.eu.
Click here to download the whitepaper "Fenix e-infrastructure service provisioning – lessons learned"