March 15, 2023
Human Brain Project Summit: Science Market open to the public on 28 March
The Science Market is an exciting and popular part of the Human Brain Project Summit. The Open Day on 28 March is free to the public. For more information and to register for the event, please visit our Summit website. You can also download the Open Day flyer including a booth overview for the Science Market.
As part of the 2023 Human Brain Project (HBP) Summit in Marseille, France, the HBP will host a two-day Science Market at the Palais Du Pharo. On the first day, 28 March, the event will be open and free to the public (registration is still required, you can register here: https://summit2023.humanbrainproject.eu/registration/). The event will showcase innovative services, feature live demonstrations, and offer opportunities to interact with researchers and industry leaders in neuroscience. At the booths, there will also be quizzes, games and goodies to collect.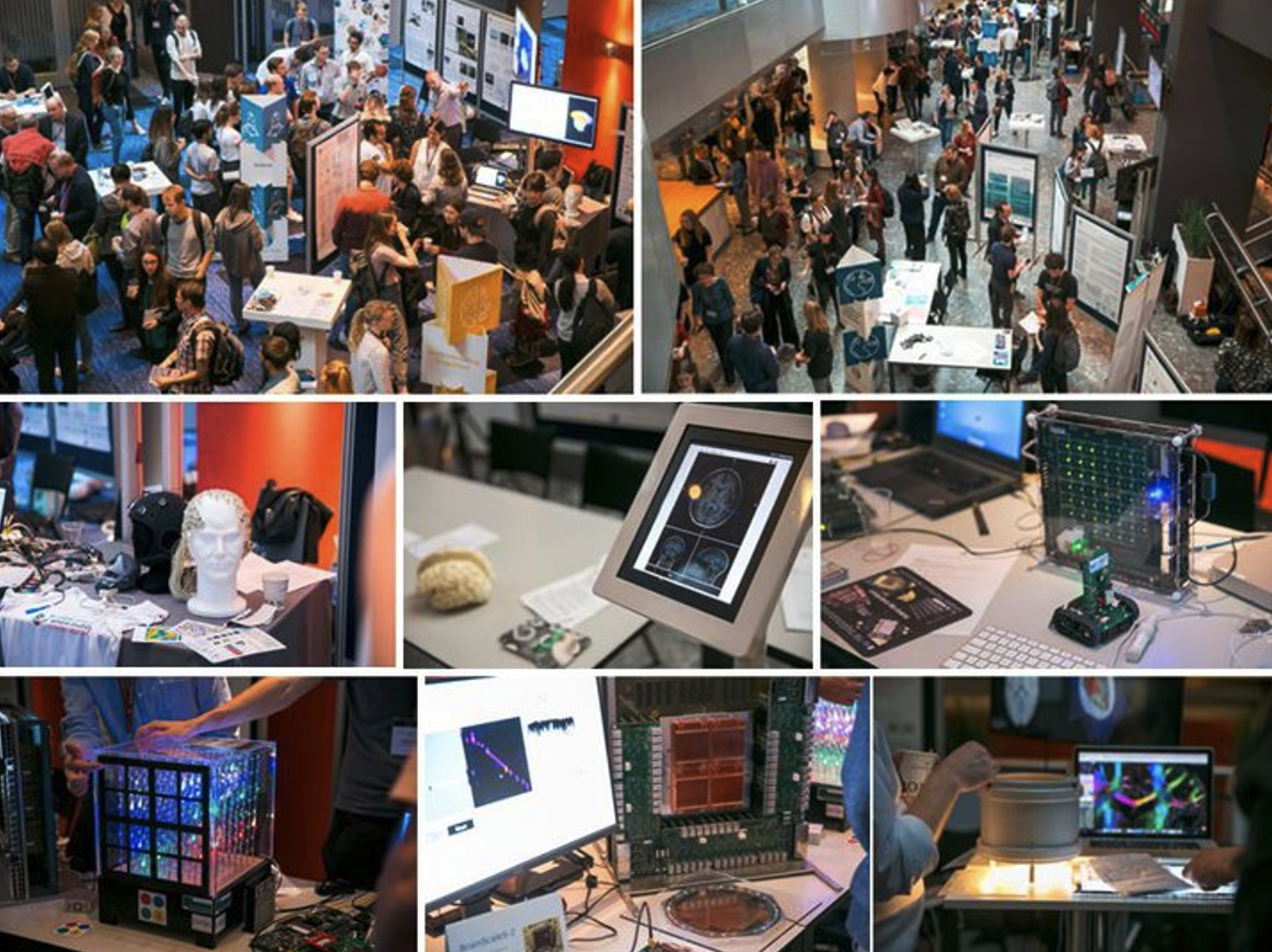 At several booths dedicated to EBRAINS, the European digital research infrastructure developed by the HBP, visitors can learn more about various digital tools and services which can be used to address challenges in brain research and brain-inspired technology development. Attendees will also have the opportunity to meet representatives of the EBRAINS National Nodes.
Computational neuroscience and groundbreaking technologies are key for the HBP. At the market, you will find a booth dedicated to The Virtual Brain digital simulation platform, and a presentation of the HBP brain atlases, some of the most detailed interactive atlases currently available. Multiple booths will showcase advanced robotics and neuromorphic hardware, which is built taking inspiration from organic brains. 
The Innovation and Partnership booths will offer you the chance to build connections with other researchers, stakeholders and investors to build partnerships and get support from the HBP Innovation team on questions related to technology transfer, financial support and industry collaboration. 
You can register to the Open Day here (https://summit2023.humanbrainproject.eu/registration/) – come and visit us!
Programme
Attendees of the Open Day of the HBP Summit will have full access to the talks and plenary sessions on 28 March. The programme starts with welcome addresses by HBP leaders and political representatives.
Another highlight of the day will be a keynote speech by Michael Breakspear, a psychiatrist and neuroscientist from the University of Newcastle (Australia), who researches the principles of brain function and health in mental illness. He will discuss the future of digital neuroscience.
In addition, attendees can look forward to a thought-provoking panel on "Brain Health: an emerging European policy priority". For those interested in high-performance computing, the session "Federated Computing Infrastructure" will bring representatives of various European computing centres.
The complete programme is available here.

Text by Roberto Inchingolo