Feb. 27, 2023
The Human Brain Project Picture Exhibition opens to the public
The Human Brain Project Picture Exhibition has just opened today, Monday 27 of February in Marseille, at the Hexagone - Campus Luminy.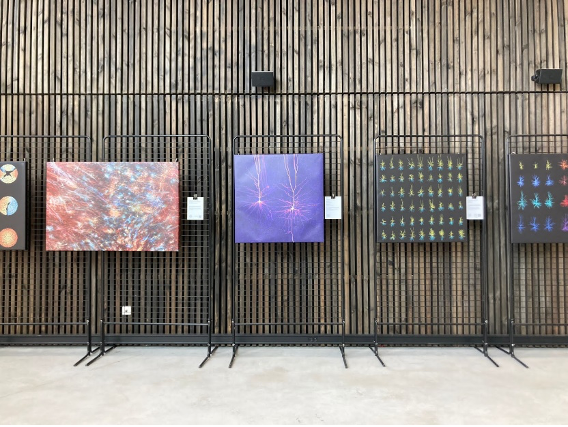 The HBP will host its final Summit in the French city and to celebrate the occasion, it will display a selection of scientific images produced by its researchers. The exhibition is free entry and has been organized in collaboration with the Institut de Neurosciences des Systèmes, Inserm and Aix-Marseille University.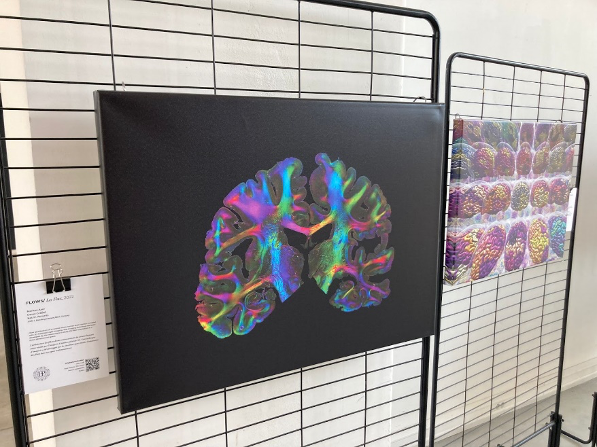 Some images are detailed photographs, others are digital renderings or 3D simulations, produced by some of the many institutions belonging to HBP. While none of the images have been originally created with an artistic intent, they have been repurposed as such. For this reason, they have been printed on canvas, with no alteration, and displayed as if they were part of an art gallery. The subject is the same - the brain, either human or animal.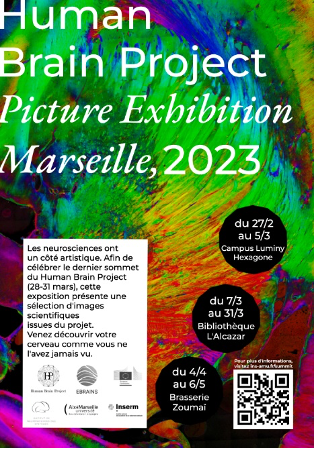 The exhibition will be traveling to several venues before, during and after the HBP Summit (March 28-31, 2023 at the Palais du Pharo). Dates and locations are: 
You are invited to visit and see the brain under a new light.
To learn more about the HBP Summit and other events, visit https://summit2023.humanbrainproject.eu
L'exposition d'images du Human Brain Project ouvre ses portes au public
Aujourd'hui, lundi 27 février 2023, a lieu l'ouverture de l'exposition Human Brain Project (HBP) à la faculté des sciences de Luminy, bâtiment l'Hexagone.  À l'occasion du dernier sommet du HBP qui se tiendra à Marseille du 28 au 31 mars, cette exposition présente une sélection d'images scientifiques produites par les chercheurs impliqués dans le projet. Organisée en collaboration avec l'Institut de Neurosciences des Systèmes, l'Inserm et Aix-Marseille Université, l'exposition est accès libre.
Certaines images sont des photographies détaillées, d'autres sont des rendus numériques ou des simulations 3D, produites par les nombreuses institutions partenaires d'HBP. Bien qu'aucune des images n'ait été créée à l'origine avec une intention artistique, celles-ci sont réutilisées en tant que telles. Pour cette raison, elles ont été imprimées sur toile, sans aucune altération, et exposées comme si elles faisaient partie d'une galerie d'art. Le sujet est le même - le cerveau, qu'il soit humain ou animal.
L'exposition sera présentée dans différents lieux avant, pendant et après le Sommet HBP (28-31 mars 2023 au Palais du Pharo). Les dates et lieux sont:
Nous vous souhaitons une agréable visite dans l'intérieur du cerveau.
Pour en savoir plus sur le sommet HBP et d'autres événements, visitez https://summit2023.humanbrainproject.eu/