Nov. 25, 2022
Addressing ethical challenges in artificial intelligence
Artificial intelligence can both help and harm. How can we weigh the benefits, for example, by reducing human error, against the costs, such as the introduction of algorithmic bias? A new book offers tools to help manage the ethical challenges brought on by the increased use of AI, offering both case studies and proposing case-specific solutions to address discrimination, privacy, surveillance capitalism, manipulation, right to life, liberty and security, dignity and how to use AI for good.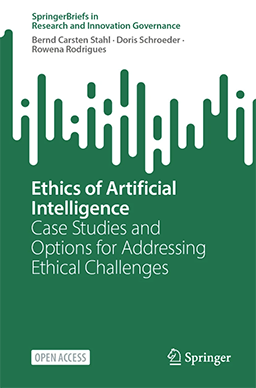 The development and use of artificial intelligence raises ethical questions for developers, users, and standardisation bodies, but also policy makers, activists, educators, professional organisations, and even those who decide not to use AI.  According to Bernd Stahl, Ethics Director in the Human Brain Project and one of the authors, the book is written accessibly without jargon to be suitable for a wide range of audiences, published Open Access to ensure it becomes accessible.
 
This is the first book of its kind, focusing exclusively on real-life AI ethics case studies, accompanied by commentary and possible solutions. The book is published Open Access, and builds on work in the Human Brain Project, the Horizon 2020 SHERPA project and other projects, offering free and unlimited access. The book is divided into chapters, where each topic is discussed through the lens of real-life AI ethics case studies. For example, there is a lot of debate about whether AI can include and perpetuate biases, in turn leading to unfair or illegal discrimination against individuals on the basis of age, race, gender or disability. To exemplify this, the authors describe cases of AI enabled discrimination through three cases covering different aspects: gender bias in recruitment tools; discriminatory use of AI in law enforcement and predictive policing; and discrimination on the basis of skin colour. They discuss under which circumstances discrimination becomes unethical and illegal before suggesting specific ways of dealing with the problem, for example by undertaking AI impact assessments or employing ethics by design methodologies.
Want to know more? The book is called Ethics of Artificial Intelligence - Case Studies and Options for Addressing Ethical Challenges is written by Bernd Carsten Stahl, Doris Schroeder & Rowena Rodrigues and is part of the SpringerBriefs in Research and Innovation Governance series. The authors have also written about the book on the Ethics Dialogues blog: Ethics of AI – Cases and Options.