July 26, 2022
Young Researchers using EBRAINS for tomorrow's scientific challenges
Right before the summer break, the HBP Student Ambassadors and the EBRAINS Scientific Liaison Unit organised - together with the HBP Education Programme - the interactive workshop "Young Researchers using EBRAINS for tomorrow's scientific challenges". During the event, participants were given a platform to share their ideas for workflows on the EBRAINS Infrastructure and to learn - together with their peers - how to conceptualize their research ideas and record them in a comprehensive workflow.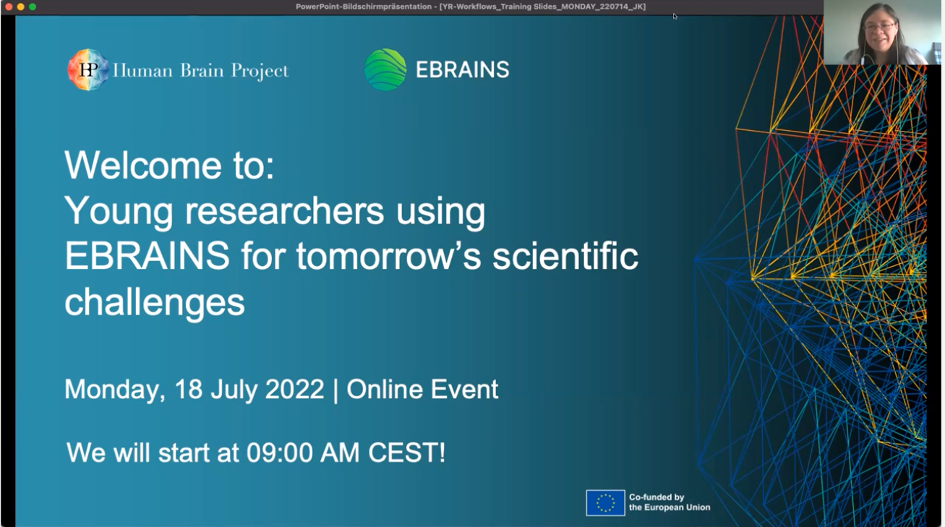 Taking place virtually from 18-19 June 2022, 40 participants, of whom 19 were women, from 20 different countries, joined this two-day event to learn more about the different EBRAINS Infrastructure tools and how to use them in an interwoven, consistent fashion, creating an EBRAINS workflow. 
The workshop opened with an introduction on EBRAINS tools by Claudia Bachmann, Sandra Diaz, and Wouter Klijn and dedicated its first day to the technical aspects of creating a workflow, through student presentations and refined examples by speakers.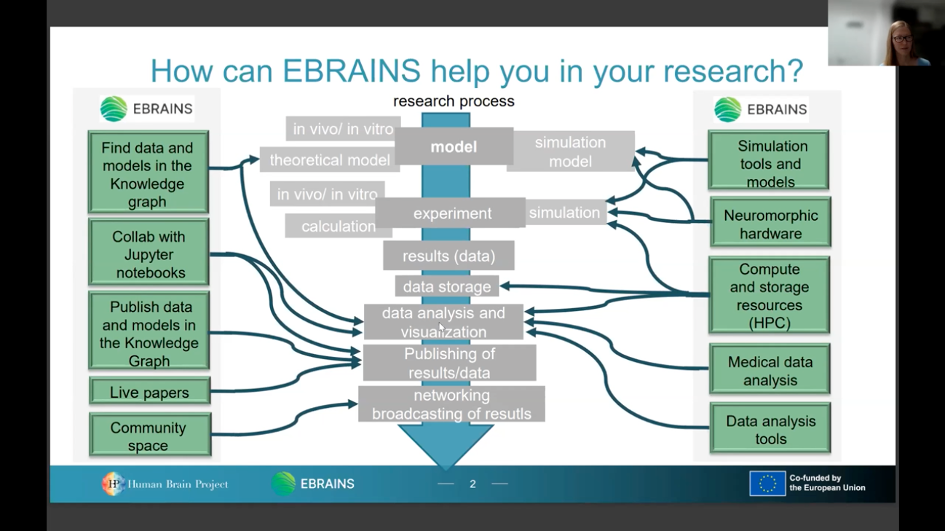 On day two, participants could already put the knowledge gained during the past day into practice by independently working on their own research ideas and expressing them in a workflow.
Students will have the opportunity to continue working on their workflows together with the scientific team with the aim of producing a white paper that will likely be published by the end of the year. 
In summary, the event "Young Researchers using EBRAINS for tomorrow's scientific challenges" offered a unique opportunity for early-career researchers from all over the world to share their ideas and collaborate to produce meaningful results in their area of research and inspire new ideas in the use of EBRAINS Infrastructure tools.
We want to thank all speakers, organisers and tutors – without them none of these exciting sessions would have been possible. Also, a thank you to the hard-working Programme Committee, who has been active behind the scenes for many months to put such an appealing schedule together. Thank you for your efforts & dedication – we cannot wait to host more events in collaboration in the future!
If you want to read more about the event "Young Researchers using EBRAINS for tomorrow's scientific challenges", visit the event page. For this event no sessions were recorded, but if you are interested in other events we have hosted, you can browse through our E-Library or our YouTube Channel.