May 6, 2022
The 7th HBP Student Conference is taking place in Madrid, Spain 18-20 January 2023!
The HBP Education Programme together with the Student Ambassadors & Representatives is excited to announce that the 7th HBP Student Conference on Interdisciplinary Brain Research will take place next year in Madrid, Spain from 18 to 20 January 2023. Participation is open to the entire student community and early career researchers, regardless of whether they are affiliated with the Human Brain Project (HBP) or not.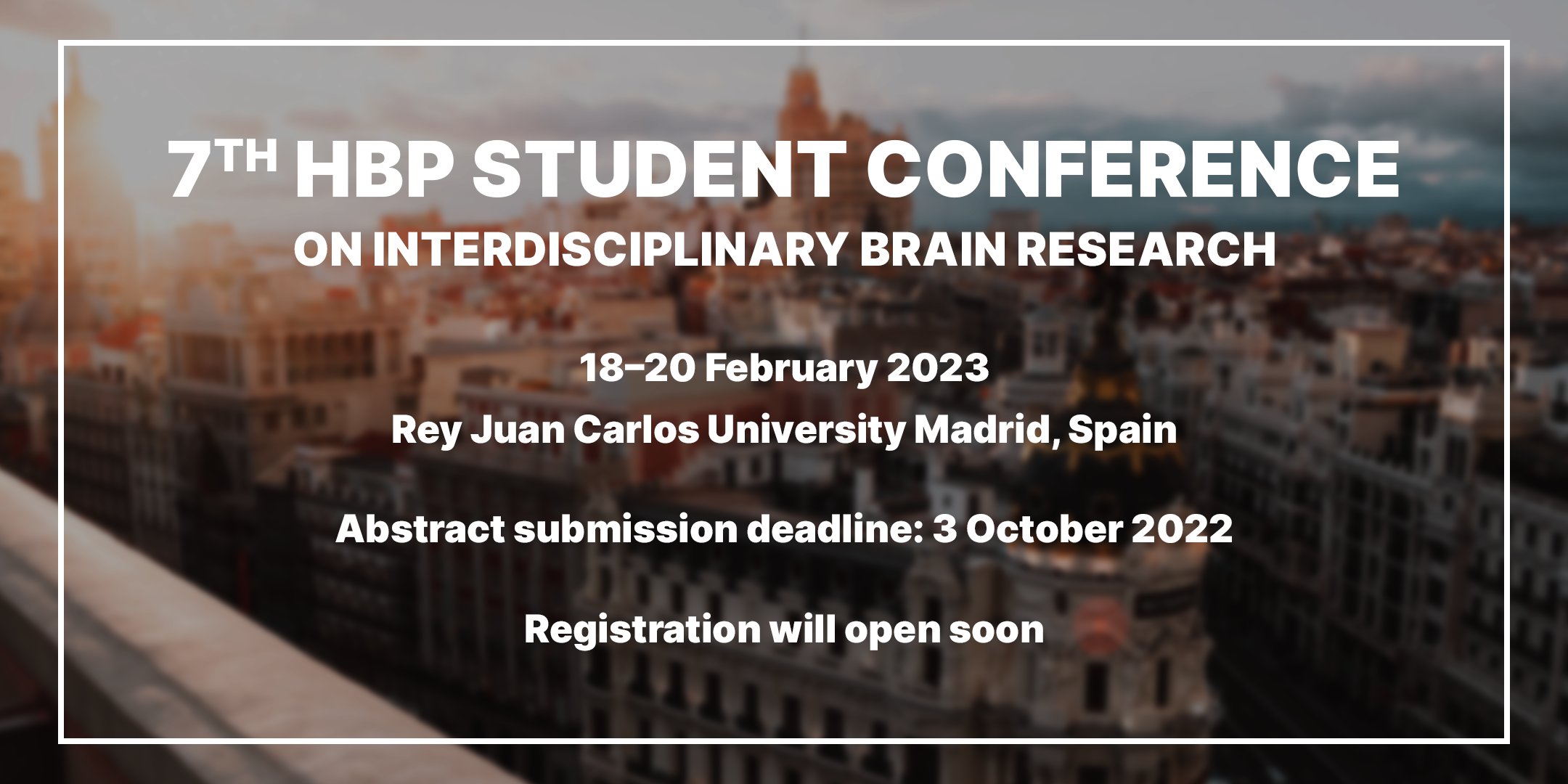 About the Conference
The human brain is such a complex system that it can only be understood by combining knowledge and practices from multiple scientific fields. The 7th HBP Student Conference provides an open forum for the exchange of new ideas among early career researchers working across various fields relevant to the HBP. Attendees will be exposed to the data-driven brain research approach of the HBP and have the opportunity to use the EBRAINS platform. The conference offers a space for extensive scientific dialogue, both intra- and interdisciplinary, among peers and faculty through a variety of discussion sessions, lectures, workshops and social events. It will take place on-site, organized and supported by the HBP Education Programme.
Call for Submissions
The Conference invites high-quality submissions describing innovative research in all disciplines addressed in the HBP. These contributions can emphasise theoretical or empirical work relating to a wide spectrum of fields including but not limited to: neuroscience, computer science, robotics, medicine, psychology, cognitive science, or philosophy. The Conference organisers particularly encourage submissions with a potential to inspire collaborations in the research community by introducing new and relevant problems, concepts, and ideas, even if the work is at an early stage of development. Abstracts can be submitted via the Conference website, the deadline for abstract submission is 3 October 2022. 
Registration will open in June 2022!

For any further questions, please contact the HBP Education Programme via education@humanbrainproject.eu.