March 18, 2022
Event Recap: Training Workshop on Tools for Molecular Simulation of Neuronal Signaling Cascades
In the first week of March EBRAINS and the HBP Education Team were happy to host virtually the Training Workshop on Tools for Molecular Simulation of Neuronal Signaling Cascades.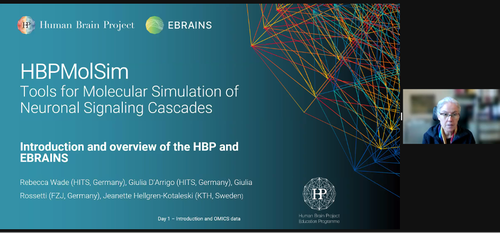 During the 4-day event, the participants had the opportunity to put into practice the computational tools developed in the HBP through interactive hands-on sessions, with speakers walking them through every step and encouraging discussions among the participants. 
Rebecca Wade from the Heidelberg Institute for Theoretical Studies opened the Training with a kind welcome to participants and moderated the sessions throughout the day. The training focused on topics such as OMICs data, Molecular data and molecular dynamics simulations, Brownian dynamics and QM/MM and Subcellular modelling and simulation which supplied the themes of the day for the 4-day training event. In up to 3 Hands-on sessions a day the participants could apply the knowledge acquired in the lectures to learn how to use the showcased tools for their research. The workshop provided an insightful overview of the tools that enable brain simulation and modelling at the molecular and subcellular levels, leaving participants overall satisfied with the even. 
Most sessions were also recorded and will be shared on the HBP Education E-Library and the HBP Education YouTube Channel for future reference.