4th HBP Student Conference on Interdisciplinary Brain Research
21-22 January 2020 | Pisa, Italy
Abstract submission deadline: 30 September 2019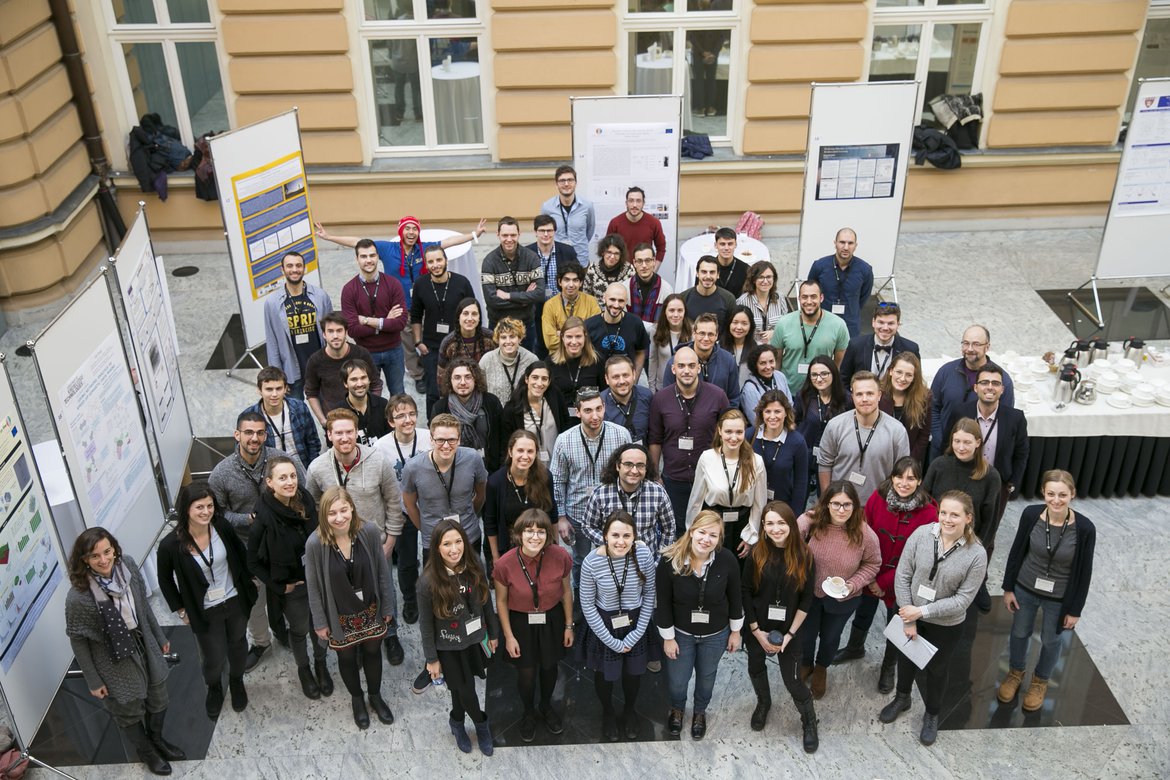 The human brain is such a complex system that it can only be understood by combining knowledge and practices from multiple scientific fields. The 4th HBP Student Conference provides an open forum for the exchange of new ideas among young researchers working across various aspects of science relevant to the Human Brain Project (HBP). The conference offers a space for extensive scientific dialogue, both intra- and interdisciplinary, among peers and faculty through a variety of discussion sessions, lectures and social events.

Call for Submissions
We invite original high-quality submissions describing innovative research in all disciplines addressed in the HBP. These contributions can emphasise theoretical or empirical works relating to a wide spectrum of fields including but not limited to: neuroscience, computer science, robotics, medicine, psychology, cognitive science or philosophy. We particularly encourage submissions with a potential to inspire collaboration in the research community by introducing new and relevant problems, concepts, and ideas, even if the work is at an early stage of development.
A limited amount of financial support (fee waivers/travel grants) is available for participants who successfully submit an abstract for presentation in the conference.
Registration deadline: 8 January 2020
 
Please note that registration for the conference is mandatory.
 
Registration fees in EUR
| | | |
| --- | --- | --- |
|   | Online registration until 8 January 2020 | On-site registration |
| Students * | 100.- | 150.- |
| Regular participants | 150.- | 200.- |

* A proof of your student status (student ID) will be required on site, otherwise a surcharge (regular participant fee) has to be paid.
What is covered by the registration fee?
Admission to all scientific sessions
Conference material
Coffee breaks during the conference
 
The fee does not include travel and accommodation. 
Registration fee waivers are available for a limited number of participants who successfuly submit an abstract for presentation. Participants can apply for fee waivers prior to the abstract submission deadline by sending an email to the organisers.
Confirmation of registration
You will receive an automatically generated notification via email after the registration has been completed. After your payment has been received, you will get a final confirmation.
After 8 January 2020, pre-registration will be closed, but you can also register on site at the venue.
Cancellations and refunds
Notice of cancellation has to be sent via email to the HBP Education Programme Office. The policy for refunding registration fees is as follows:
Written cancellation received:
before 30 September 2019: 80% refund
before 8 January 2020: 50% refund
from 8 January 2020: no refund.
No refunds will be granted for unattended events or early termination of attendance, in case of cancellation of speakers, lack of space in the conference room, or any other incidents during the conference that are beyond the control of the conference organisers. 
Letter of invitation
Individuals requiring an official letter of invitation from the conference organisers can request one by contacting the 4th HBP Student Conference organisers at education@humanbrainproject.eu. To receive a letter of invitation, delegates must register for the conference first and submit any necessary data, as stated in the online form. The letter of invitation does not financially obligate the conference organisers in any way. All expenses incurred in relation to the conference, the registration, and the attendance are the sole responsibility of the delegate.
Modification of the programme
The conference organisers reserve the right to modify the programme. No refunds can be granted in case of cancellation of speakers, lack of space in the conference room, or any other incidents during the conference that are beyond the control of the conference organisers.
Cancellation of the conference
In the event that the conference cannot be held or is postponed due to events beyond the control of the conference organisers (force majeure) or due to events that are not attributable to wrongful intent or gross negligence of the conference organisers, the conference organisers cannot be held liable by delegates for any damages, costs, or losses incurred, such as transportation costs, accommodation costs, costs for additional orders, financial losses, etc.
Would you like to be part of the scientific programme and show us your research?

Please submit an abstract and you will have the opportunity to present your work during the 4th HBP Student Conference. Your presentation will include either a poster presentation only or a brief oral and a poster presentation.
 
All submissions will be evaluated by the Scientific Programme Committee with regard to their relevance for the conference in terms of topics and areas of interest, their scientific merit, correctness, and the quality of presentation.
Abstract submission deadline: 30 September 2019
Please note that registration for the conference is mandatory.

Topics and areas of interest include, but are not limited to:
 
Mouse brain organisation

Brain transcriptomics and proteomics
Brain macrostructure, vasculature, cells and synapses
Data aggregation and analysis
 

Human brain organisation

Multi-level organisation of the brain
Data aggregation and analysis
 

Systems and cognitive neuroscience

Perception-action
Motivation, decision and reward
Learning and memory
 

Theoretical neuroscience

Simplified neuron and neural circuit models and modelling brain signals at different scales
Synaptic plasticity, learning and memory
Large-scale models of human cognitive function
Principles of brain computation
 

Neuroinformatics

Tools for brain atlases 
Tools for structural and functional data analysis
Predictive neuroinformatics 
 

Brain simulation

Data-driven reconstruction of brain models 
Brain simulation engines 
Molecular dynamics simulation
 

Neuromorphic computing

Neuromorphic computing with physical emulation and digital many-core implementation of brain models
Software tools for neuromorphic computing
Novel technologies for neuromorphic circuits
 

Medical informatics

Tools for federated data management
Data mining and machine learning approaches to data analysis
Biological signatures of diseases
 

Neurorobotics

Design
HBP Neurorobotics Platform
Robot designer and brain interfaces & body integrator
 

High Performance Computing

Mathematical methods, programming models and tools 
Interactive visualisation, analysis and control
 

Ethics and society

Industrial, economic and social consequences of the HBP
Conceptual and philosophical issues
Researcher awareness
Submission guidelines:
Authorship:
Please accurately include all co-authors and their affiliations. If in doubt whether a person's contributions should or should not be considered as authorship, please refer to http://www.icmje.org/icmje-recommendations.pdf.
Abstract body:
The abstract body has a limit of one page, an extra page can be used for figures and bibliography. Given that it is an interdisciplinary conference, formatting of abstracts organised according to the IMRaD format [Introduction/Motivation, Methods, Results and Discussion], with several sentences addressing each of these elements, is highly recommended.
References should be included at the end of the abstract. A reasonable amount of illustrations, figures and tables may be included within the abstract body. It is allowed to add acknowledgements to the abstract.
Abstracts may be edited up to the deadline of 30 September 2019.
In general, submissions of completed research are encouraged. However, submissions may also contain research in progress and, in particular, abstracts that demonstrate research plans and proposals, i.e., the idea, aims, hypotheses and possible implications of the proposed research.

 
Submitting your abstract:

Please submit your abstract online using the submission webpage. 
If you have no EasyChair account, please create an account
Follow the instructions on the webpage and enter authors, title, and keywords (min. 3)
Select topics relevant to your submission from the list
Indicate your preferred mode of presentation
Upload your abstract as a PDF version under "Uploads" (you can find an abstract template below)
Submit your abstract

Abstract template (29.2 KB)
Abstracts can be edited up to the submission deadline.
Poster guidelines:
The recommended poster size is A0 (841 x 1189 mm, portrait format). The minimum poster size is A2 (420 x 594 mm).
All posters displaying results from HBP-funded research groups must contain the HBP logo and the European Union logo as well as EC funding acknowledgements.
The following information should be included on the poster: Authors' names, surnames, and affiliations.
Posters should be clear and easy to read. Type size should be sufficiently large to allow people to read from two meters away.
Posters should be printed by the authors prior to the start of the conference. There is no printing possibility on site. All other materials required for putting up the posters will be available at the conference.
Claudia Casellato (University of Pavia, Italy)
Julia Guiomar Niso Galán (Universidad Politécnica de Madrid, Spain)
Dominik Kutra (EMBL, Germany)
Wolfgang Maass (TU Graz, Austria)
Alberto Mazzoni (Scuola Superiore Sant'Anna, Italy)
Andrew Rowley (University of Manchester, UK)
Dieter Sturma (Forschungszentrum Jülich, Germany)
Tilo Schwalger (TU Berlin, Germany)
Combine the Student Conference with a hands-on workshop day!
The Student Conference is immediately followed by a hands-on workshop day on 23 January, which is dedicated to hands-on project work on various tools and services developed in the HBP. Attendees of the Student Conference are invited to participate in the workshop day free of charge. Registration is possible through the conference registration system. 
The number of participants is limited.
ORGANISERS
Theresa Rass | Medical University Innsbruck
Laura Saxer | Medical University Innsbruck
PROGRAMME COMMITTEE
Chairs:
Sandra Diaz | Forschungszentrum Jülich
Gabriel Urbain | Ghent University
Committee:
Carmen Alina Lupascu | Italian National Research Council
Luca Peres | University of Manchester
Marta Turégano | Universidad Politécnica de Madrid
Alexander van Meegen | Forschungszentrum Jülich
Alper Yegenoglu | Forschungszentrum Jülich