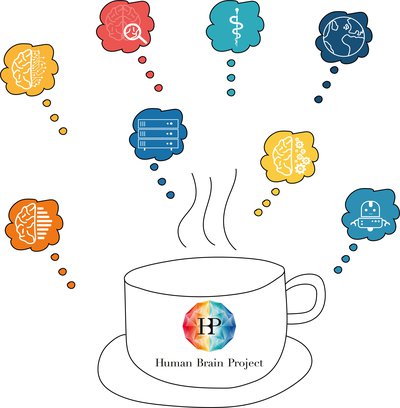 Present your research and make yourself visible to other (early-career) researchers within and outside the HBP!
Contact us at 
education@humanbrainproject.eu

The HBP Student Representatives & Ambassadors, supported by the HBP Education Programme, invite you to a virtual coffee/tea break featuring talks by young researchers for young researchers. 
 
After a long summer break, we want to relaunch our informative programme HBP Tea & Slides and are now looking for motivated speakers who want to share their exciting work with fellow researchers. Presentations can be about finalised or ongoing projects, research questions or plans, as well as introducing others to HBP tools that you are working with. 
Apply now to become a speaker in our next HBP Tea & Slides session!
 

HBP Tea & Slides will be hosted on the first Thursday of every month at 14:00 CEST. Submissions need to be handed in one week prior to the session.
Send an email to education@humanbrainproject.eu stating:
Name
Affiliation
Field of study
Involvement in HBP (Work package)
Title of your talk + short description of the content (2–3 sentences)
Agree or disagree for your online presentation to be recorded (Check if you have the property rights of information on your slides!) 
Present your work and raise your profile within and outside the HBP. As it is a crucial skill for researchers to present their work, this is a great opportunity to gain experience and to receive valuable feedback from your peers. You can also request a certificate from the HBP Education Programme if you want to add this experience to your CV.
Past Sessions
 
ORGANISERS
Petruț Antoniu Bogdan | University of Manchester
Sandra Díaz Pier | Forschungszentrum Jülich
Alice Geminiani | University of Pavia
Carmen Alina Lupascu | Italian National Research Council
Jens Egholm Pedersen | KTH Royal Institute of Technology
Ingrid Reiten | University of Oslo
Alper Yegenoglu  | Forschungszentrum Jülich

Judith Kathrein | Medical University Innsbruck
Johanna Fusseis | Medical University Innsbruck
RECORDED SESSIONS