SAVE THE DATE
 
Young Researchers Event meets HIBALL:
new digital tools to study the brain 
25 October 2022 | Zadar, Croatia & online
Download Announcement Flyer 1.4 MB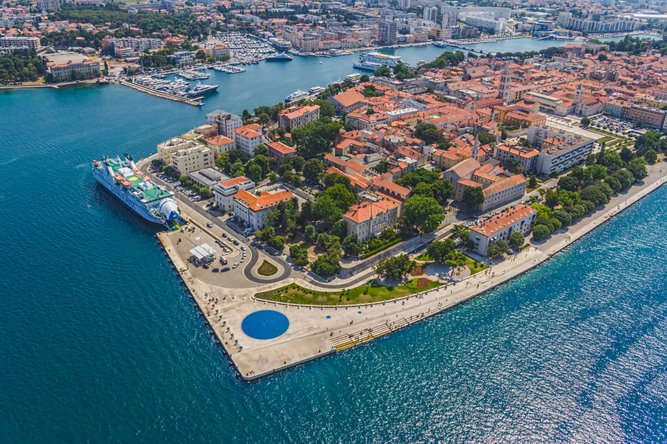 © BestofCroatia
FAQ's and all you need to know
By plane
Zadar has a small international airport which has connections to many major European cities. The airport is a 30 min. drive away from the venue. Alternatively, you can also land in Zagreb, which has a bigger airport, and then take a bus from the Zagreb main bus station to Zadar. This ride will take 3 hours.
By car
Zadar is located on the A1 highway. This highway connects the city with major Croatian cities such as Zagreb and Split and also other European countries.
The speed limit in Croatia is 130 km/h on motorways, 90 km/h on open roads and 50 km/h within cities.
In order to use Croatian motorways, you have to pay toll. At the entrance of the motorway, you will get a ticket and at the exit you will have to pay the toll amount. Toll can be paid in Kuna or Euro, as well as by card.
By bus
You can take a bus from Zagreb to Zadar, which will take 3 hours. Alternatively, you can also take a bus from Split to Zadar, which takes 2 hours. Both routes are run by a number of different bus companies. The largest bus operators are Arriva, Croatia Bus and Cazmatrans. Tickets range from 7 to 16€. All busses depart from the main bus terminal (autobusni kolodvor). This is also where you can buy tickets. Bus tickets can also be bought online on getbybus or Vollo.
The venue is located in Petrčane, which is a 15 minute bus ride away from Zadar. The bus stop is a 30 minute walk away from the venue. Alternatively, you can also take a taxi.
As of March 2022, travelers need to show a Green Pass upon entrance. Alternatively, a negative PCR test has to be shown. Travelers have to register their contact details and where they will be staying in Croatia. It is recommended to do this online beforehand.
Face masks are required in indoor spaces, on public transport and taxis. In addition, they also have to be worn outside if you cannot keep a distance of 1,5 meters to other people.
The Adriatic coast region has a Mediterranean climate consisting of hot and dry summers. The winters are cool and rainy. The average temperatures in October are between 12°C and 20°C.
There are a number of accommodations available in Petrčane, as well as Zadar.
Accommodations in Petrčane
Accommodations in Zadar
Language
The official language of Croatia is Croatian, which is written using the Latin alphabet. Especially younger Croatians also commonly speak English.
Currency
The currency in Croatia is the Croatian Kuna (HRK). 1 HRK = 0,13€
Money can be exchanged in banks and post offices. Credit cards are widely accepted in most shops and restaurants. Nevertheless, you should make sure to ask the staff beforehand. Croatian Kuna can also be withdrawn from ATMs, which are readily available.
Time
Croatian is in the Central European Summer Time Zone at the time of the event. This time zone is also referred to as UTC+2. On the 25th of October, Croatia will switch to Central European Time (UTC+1).
Electricity
The standard voltage in Croatia is 230 V. The standard frequency is 50 Hz. Most European countries use the same voltage and frequency.
Please note that the information provided on this site has been obtained from several different sources and therefore the organisers cannot accept any responsibility for errors therein.
The human brain is a multi-level and highly complex system that produces, processes and transmits information in an incomparable manner. The Human Brain Project (HBP) unites researchers and scientists to decode the mechanisms underlying this unique system by investigating the human brain and its diseases with the help of highly advanced ICT tools. As such, the HBP is developing EBRAINS, the new European digital research infrastructure, as a lasting contribution to the global science community, an open source tool that allows scientists and technology experts to seamlessly collaborate, thereby accelerating advancements in the fields of neuroscience, computing and brain-related medicine.
The Helmholtz International BigBrain Analytics and Learning Laboratory (HIBALL) is an HBP Partnering Project that aims to transform the well-known BigBrain model to its next level by reinforcing utilization and co-development of the latest AI and high-performance computing (HPC) technologies for building highly detailed 3D brain models.
HBP and EBRAINS together with the University of Zagreb, School of Medicine and HIBALL invite the entire scientific community, in particular early career researchers, to join the forthcoming Young Researchers Event (YRE), taking place on 25th October in Zadar, Croatia. During this one-day free event, participants can learn more about topics like big data analytics, human brain atlasing and computational neuroscience in interactive plenaries and hands-on workshops. The programme also offers networking opportunities for participants to exchange with peers as well as renowned experts.
This event will take place in conjunction with the 6th BigBrain Workshop - From microstructure to functional connectomics. We encourage participants of the YRE to also attend the BigBrain Workshop.
Registration will open soon.
Scientific Chair
Katrin Amunts | Forschungszentrum Jülich/Heinrich-Heine-Universität Düsseldorf (Scientific Research Director HBP)
Programme Committee
Katrin Amunts | Forschungszentrum Jülich/Heinrich-Heine-Universität Düsseldorf (Scientific Research Director HBP)
Paule-J Toussaint | McGill University/HIBALL
Susanne Wenzel | Forschungszentrum Jülich/HIBALL
Maja A. Puchades | University of Oslo
Goran Sedmak | School of Medicine University of Zagreb
Andrija Štajduhar | School of Medicine University of Zagreb
Local Hosts
Goran Sedmak | School of Medicine, University of Zagreb
Andrija Štajduhar | School of Medicine, University of Zagreb
Venue
Falkensteiner Resort Punta Skala 
Ulica 1
23231 Petrčane
Croatia
Contact