Get access to the state-of-the-art facilities and resources of HBP partner institutions, to foster collaboration and carry out cutting-edge scientific research.
HBP and HBP partners provide access to three types of Facility Hubs:
Physical facilities (e.g. microscopes)
Competence centres providing specialized software support going beyond the EBRAINS High Level Support Team
Facility Hubs are aligned with the FENIX supercomputing network to provide user access to computing resources, e.g. for data storage, analysis, and simulation.
The first Facility Hub pilots will be operational by the end of March 2021. Additional Hubs are planned to follow.
The Facility Hubs are contributions from HBP partners to the new EBRAINS research infrastructure, and complement the EBRAINS services currently on offer.
Access and Terms of Use
Users from academia and industry world-wide are eligible to apply for access to HBP Facility Hubs.
Getting access:
Interested users of the Facility Hubs are asked to contact the respective Facility Hub contact for a first discussion on the potential project and support as well as the feasibility. Users must bring their own funding for the project which goes beyond the offer/support by the Facility Hub. Facility Hub support can also be included in applications to calls. 
Users are asked to submit a short project description to the Facility Hub contact using the template provided by the Facility Hub contact, which includes a project summary, complementarities and synergies with the Human Brain project, and the expected outputs. Since most of the Facility Hubs require extensive compute resources (e.g. for simulations or data storage), the Facility Hubs are aligned with the Fenix research infrastructure. Facility Hubs have applied via ICEI (Interactive Computing E-Infrastructure for the Human Brain Project) for a certain amount of compute and data, resources which they can make available via "wide access" to users of the hub. If users would need more resources than supplied at the Hubs, they would have to submit a request via ICEI.
The respective Facility Hub decides which projects are supported according to its rules and regulations. Criteria for the selection are scientific excellence, impact and contribution to the aims of the Human Brain Project, EBRAINS and the Facility Hub, as well as ethical compliance with the regulations of the Hub.
Before the project starts, a Usage Agreement is signed. The usage needs to be in agreement with the EBRAINS General Terms of Use and the EBRAINS Access Policy as well as with the Facility Hub-specific licence and rules. Results (e.g. datasets, software, models) need to be curated in EBRAINS and publications or other communications using results of the project need to acknowledge the Human Brain Project and EBRAINS (and the ICEI project, if any ICEI resources were used).
Supported projects are offered to become a Partnering Project of the HBP and to enjoy the benefits of an associated HBP Partner.
Reporting:
Users are asked to deliver a short project report by the end of the project according to the template which will be provided by the Facility Hub contact before the project start.
Monitoring:
To monitor the interest and usage of the Facility Hubs by the community, user requests and outcomes of supported projects are documented and analysed on a yearly basis. This information is only for internal use. Collected data is GDPR compliant.
Physical Facilities
Click on the individual hubs below to learn more.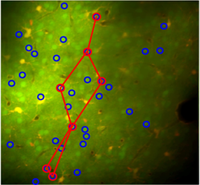 Two-photon imaging and ensemble recordings, both conducted in behaving, task-performing animal models, are illuminating our understanding of how cognitive, perceptual and motor functions originate from the behavior of large, cooperating populations of neurons. The University of Amsterdam (UvA) facility hub and competence center offers access to a Leica fast resonant two-photon scanner and high-density ensemble recording setups using Neuropixels and other silicon probe configurations. The core expertise in electrophysiological, optical and behavioral recordings is supplemented by opto- and chemogenetics, large-scale data analysis centered on population decoding and computational modelling.
The UvA can host medium (2-6 mo.) or longer (>6 mo.) term projects for PhD students, postdocs and research staff who need to acquire multiple technical skills and/or want to acquire data for a project. Shorter or remote visits are possible for researchers wanting to learn individual skills related to data-analysis. Organizing online and on-site courses and webinars for large groups is also possible.
The UvA harbours one of the largest groups for two-photon in vivo neuronal imaging and ensemble recordings in Europe, which is uniquely distinguished by its development of sophisticated behavioral paradigms testing multisensory perception, memory and consciousness, a high level of multidisciplinary integration and technical versatility.
Contact person: Paul Mertens, p.e.c.mertens@uva.nl
Additional information: Systems and Neuroscience Group web page
The hub "3D-Polarized Light Imaging" at the Institute of Neuroscience and Medicine (INM-1), Forschungszentrum Jülich, Germany, offers hands-on insights into the research of the brain's fiber architecture at microscopic scales, based on unstained histological brain sections.
The imaging technique of choice is referred to as 3D-Polarized Light Imaging (3D-PLI) and has been uniquely developed at the INM-1 over the last ten years. It basically utilizes the optical birefringence of nervous tissue, mainly induced by myelinated axons. 3D-PLI makes studies of the fiber architecture (e.g., identification and tracing of fiber pathways and tracts, and quantification of fiber orientations and myelin distributions) in 50μm thick brain sections possible.
The hub offers possibilities 
(i). for initial consultation about the topic of fiber-targeted microscopy,
(ii). to carry out a feasibility study, or
(iii). to obtain independent cross-validation on a small scale
for three weeks per year.
An approved project exclusively includes introductory training and guidance in brain cryo-sectioning and tissue mounting specifically required for 3D-PLI applications. Section scanning will be closely supervised by an on-site expert and carried out using one of the available polarizing microscopes. Finally, comprehensive image analysis will be performed utilizing the FENIX infrastructure, including high-performance computing, data storage and sharing resources at the nearby Jülich Supercomputing Centre.
Contact Person: Markus Axer, m.axer@fz-juelich.de
Additional Information: Team Fiber Architecture web page
Competence Centres
Click on the individual hubs below to learn more.