This course has been designed to introduce key aspects on the protection, exploitation, and ownership of research results. As the HBP is developing tools of very different nature - software, hardware, services, models, datasets - it is important to differentiate and learn how every type of result can be effectively transferred (commercially or non-commercialy) to the scientific and/or industrial markets. The course will provide practical questions, guidelines and recommendations for the elaboration of specific exploitation plans of each of your most mature technologies 
When? December 9-10, 2020. From 9:30 to 12:00 (CET)
Where? On-line (connection details will be provided to participants)
How to register? per e-mail to Bárbara Gasset
Who can register? HBP members that are developing results that can be exploited commercially or non-commercially. 
Deadline for registration: December 7, 2020
Programme
The programme of the course has been prepared for 2.5 hours during two consecutive days by using a digital platform (Zoom). After finishing the course, the innovation team could solve specific questions related to the exploitation plans.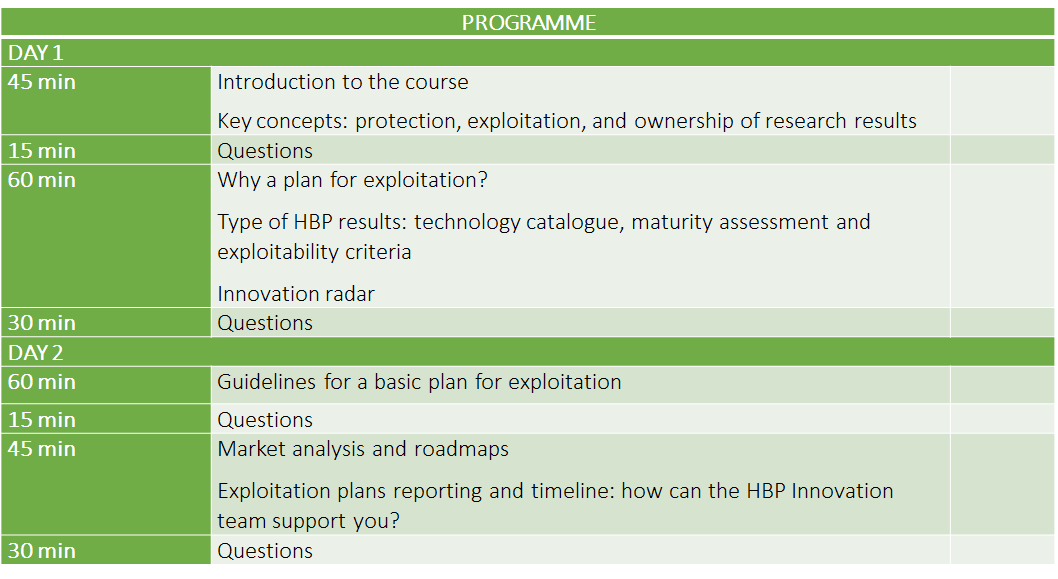 December 9-10. 2020
CONTACT