Diversity and Gender Equality Activities Overview
Diversity aspects and equal opportunities are not only important for teamwork but can also be essential elements in scientific research projects leading to additional insights and knowledge or far-reaching results. Gender mainstreaming and diversity management are cross-cutting issues in the Human Brain Project that are relevant to achieving objectives in all Work Packages. We are responsible for fostering equal opportunities in the HBP community, for example through activities and measures related to leadership culture and career development. We contribute to the integration of diversity dimensions in Human Brain Project research.
WE ARE HBP
Diversity and gender equality policies foster innovation by including a diverse and often untapped talent pool, whilst balancing task distributions and career opportunities, helping to overcome stereotypes for all genders regardless of educational background or current position in the HBP. The HBP has formulated a vision accordingly, where WE ARE HBP stands for "Work for and Engage in Activities and Research for Equality in the HBP".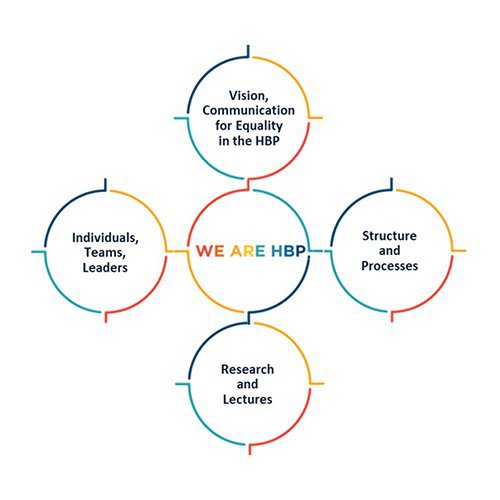 Image: convelop, Karin Grasenick
The HBP will demonstrate how equality can be fostered by a network of outstanding researchers. It will serve as a good practice example for European funded projects characterised by complexity and spatial remoteness of involved partners.
(WE ARE) HBP will thereby focus on diversity, driven by the appreciation that equal opportunities across different cultures, disciplines, tasks, and sexes contribute to excellence, innovation, and collaboration.
The HBP began its activities on gender equality in January 2017. During the SGA1 period (April 2016 to March 2018), foundations were laid by EAF Berlin (see HBP gender survey flyer). Since the SGA2 period (April 2018), convelop supports the HBP in activities related to diversity and equal opportunities.
Gender Action Plan
The Gender Action Plan II (January 2021-March 2023), comprises activities in the following four areas of intervention:
Develop and support HBP Stakeholders to share a vision on diversity and equality, setting targets, supporting, and carrying out own activities.
Analyse Structure and Processes of the HBP to identify leverage points for change.
Contribute to Research and Lectures at HBP-related workshops and publications.
Support, Individuals, Teams, Leaders, offering advice on diversity in teams as well as career building workshops.
The Gender Action Plan II contributes to the integration of the gender dimension and other diversity traits in HBP research and innovation, with a specific focus on the EBRAINS Research Infrastructure. It is based on the first Gender Action Plan I (April 2019-December 2021).
The experiences with implementing this first Gender Action Plan I (GAP) are summarised in the GAP Implementation Report M1-M24.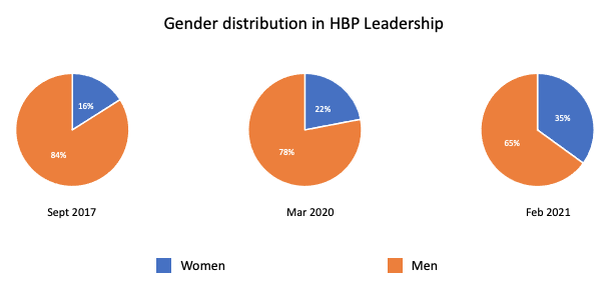 Contact
For SGA2 (April 2018 to March 2020) and SGA3 (April 2020 to September 2023), the HBP is supported in this challenging task by convelop, an independent organisation advising clients on diversity and equality in research and innovation.
karin.grasenick@convelop.at
in cooperation with the Project Coordination Office in Geneva.