The HIP - a platform for state-of-the-art processing and international sharing of HUMAN intracerebral EEG data
an open-source platform designed for large scale and optimized collection, storage, curation, sharing and analysis of multiscale Human iEEG data at the international level
a platform fully integrated in EBRAINS, a sustainable European Research Infrastructure providing tools and services in brain research and brain-inspired technologies - the HBP legacy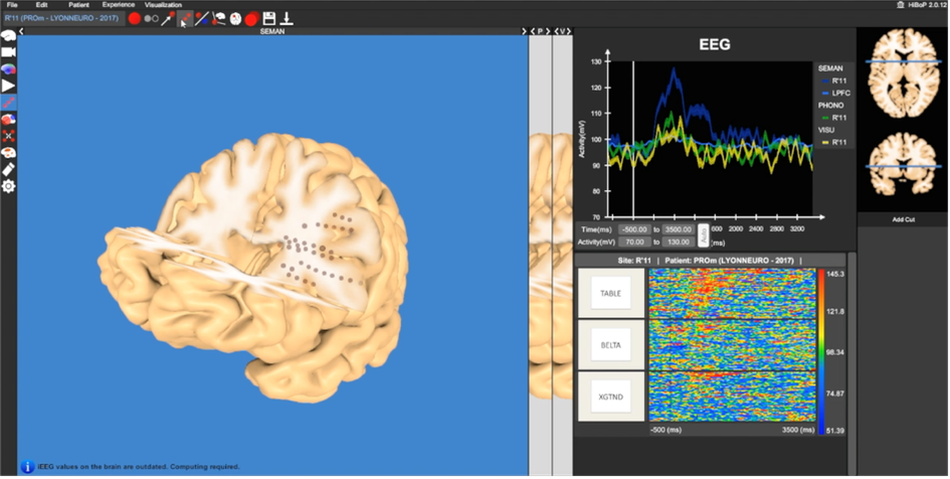 HiBoP illustrates the possibility to render group-level activity dynamically at the cortical level, for several experimental conditions (columns) of the same cognitive paradigm.
Source: UCBL, Lyon - Jean-Philippe Lachaux
The HIP – its offering
integration of state-of-the-art data processing and analytical tools for iEEG data  
integration of workflows into a secured and well-controlled platform 
optimal balance between data privacy and access for relevant end-users
consolidated and centralized access point for existing and future applications and services
time and process optimizations in iEEG data handling 
promotion of standardization of new formats, methods and technologies
full compliance with ethics and data privacy regulations
outsourced computing and pipeline processing through HPC jobs
extensive storage capabilities with safeguarding of data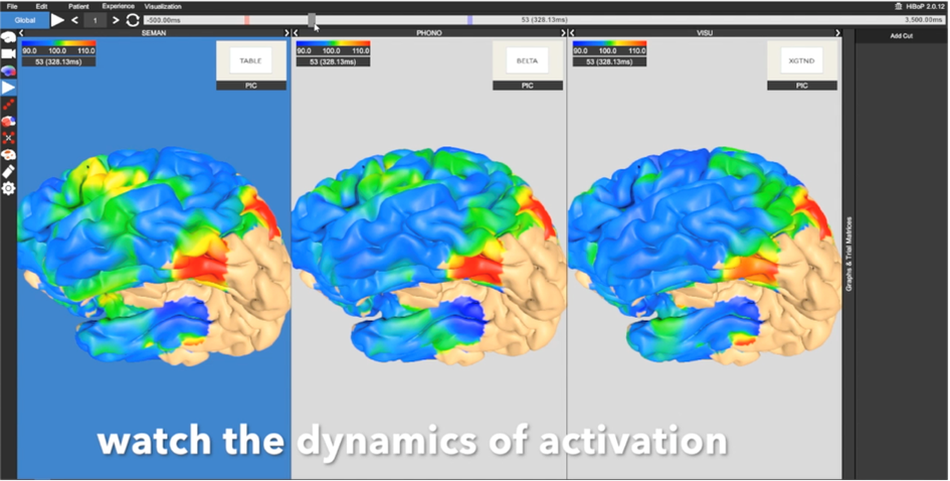 HiBoP shows a visualization at the individual level, for one site on a specific patient's anatomy, together with the iEEG response recorded in that site for the three experimental conditions.
Source: UCBL, Lyon - Jean-Philippe Lachaux
The HIP - unprecedented access to Human iEEG data for the world scientific community 
very large iEEG datasets from more than 70 clinical centers worldwide
data covering the entire field of the iEEG-based research (multi-scale investigation of cognition, consciousness, connectivity and their disorders, epilepsy and seizure biomarkers)
access for researchers to well curated open access "public" iEEG data (made available in the EBRAINS Knowledge Graph)
linkage to the EBRAINS Brain Atlases and the Virtual Brain (TVB)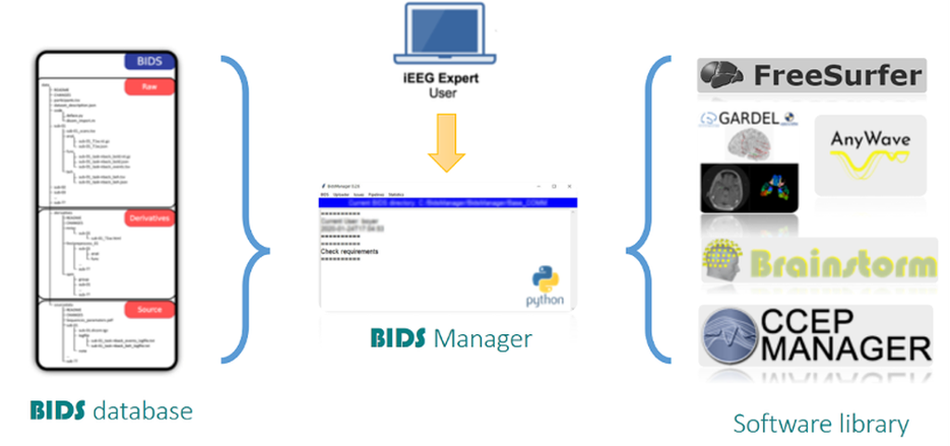 HIP handles BIDS iEEG databases that are connected to a library of open source software solutions such as:
Source: UGA, Université Grenoble Alpes - Olivier David
Data Privacy Enabling Environment
The HIP - a data privacy enabling environment with 3 defined spaces
Personal Space:  a secured, private and dedicated space for clinical centres contributing to iEEG data collection to upload, store and process their own pseudonymized data.
Collaborative Space: an access-restricted space where curated and pseudonymised data can be shared with other accredited data providers.
Public Space: a space for public iEEG data that will be made available to any EBRAINS accredited scientist, findable in the EBRAINS Knowledge Graph.
HIP iEEG Data Handling, Processing and Analysis
The HIP:
a toolbox of software and workflows, dedicated to iEEG data curation, data processing and analysis developed for iEEG research by members of the consortium,
an open-source software under licence agreement allowing non-profit usage and full traceability of iEEG data handling, specifically dedicated to the planning and monitoring of any research activity in the field.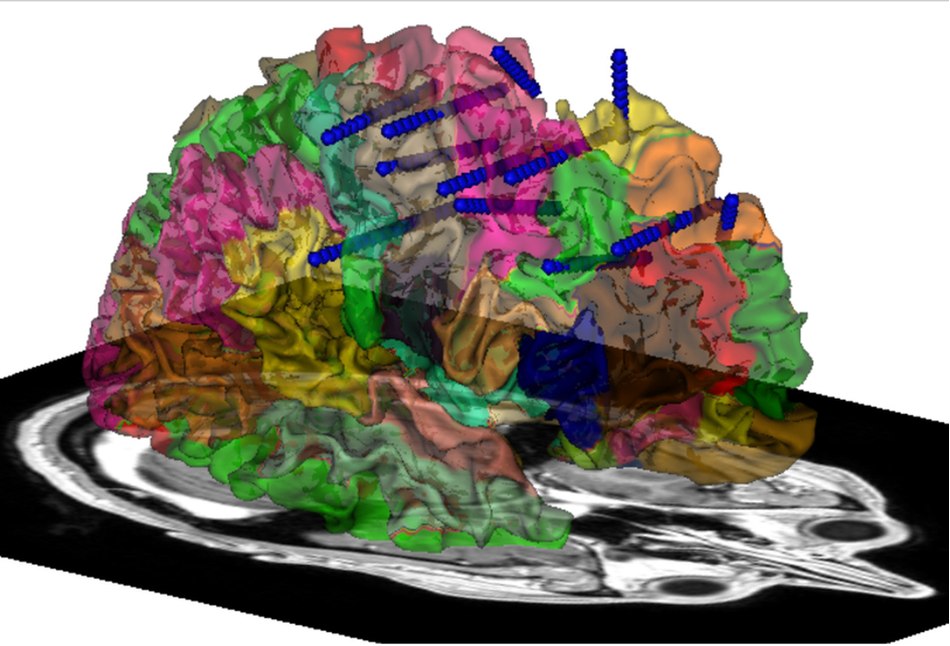 SEEG contact registration in subject's anatomy. SEEG contacts are labelled according to their position in the native space of the subject, or using coordinates normalized to a stereotactic space, using pre-operative MRI segmentation.
Source: UGA, Université Grenoble Alpes - Olivier David
The HIP Consortium
An international consortium of highly specialized iEEG clinical and research centres 
The aim - create a collaborative, ethics-approved research framework to collect, share and analyse iEEG data at a very large scale. 
The driving force - more than 90% of European and Oceania-Asian iEEG centers have agreed to participate in the project.
Main benefits for Consortium Members
Participating to Human iEEG-based research at the international scale
Accelerating progress in epilepsy and brain research
Having access to state-of-the-art software for iEEG data analysis 
Participating to the Human Brain Project
Increasing the opportunity to get competitive research funds
Having full control on sharing, use and publication of shared data 
Easy and quick procedure to upload and download iEEG data
Personalised Brain Modelling Using TVB
Source: AMU - Viktor Jirsa
Leading the HIP development 
Four European iEEG centres pioneer the development of the platform:  
CHUV, Lausanne - Philippe Ryvlin is Head of the Department for Clinical Neurosciences at CHUV. His research focus is on epilepsy, neurotechnologies, including digital health projects. Since 2015 P. Ryvlin is in charge of the development of the HBP Medical Informatics Platform (MIP). He co-leads the HIP project.
UGA, Université Grenoble Alpes - Olivier David is Director of Research at Inserm. As Head of the Brain Stimulation and Systems Neuroscience team of Grenoble Institute of Neuroscience, he works to describe the physiopathological mechanisms operating within functional networks in some neurological and psychiatric disorders. He led the F-TRACT ERC project whose database will be a central building block of the HIP. He is also affiliated to AMU since 2018 and co-leads the HIP project.
AMU, Aix Marseille Université - Viktor Jirsa is the Research director at the Centre national de la recherche scientifique (CNRS) and Director of the Institut de Neuroscience des Systèmes (INS UMR1106).  He is scientific lead of the clinical epilepsy trial  EPINOV and responsible for the open neuroinformatics platform The Virtual Brain (TVB). He also leads work-package 1 in the Human Brain Project.
UCBL, Lyon - Jean-Philippe Lachaux is Research Director at INSERM, and works at the Lyon Neurosciences Research Centre. His research is largey based on Human iEEG data recordings and focuses on "attention" and "concentration" neural mechanisms. 
Contact
Interested in the HIP? Interested in planning a clinical trial in the field? Get in contact with us! Email: erika.borcel@chuv.ch