Discover new opportunities within the Human Brain Project during the "First HBP Innovation forum"
Flett Theatre The Natural History Museum Cromwell Road London SW7 5BD
March 22, 2018 at 09:00 – March 22, 2018 at 16:30
On March 22, 2018, the first HBP Innovation Forum will be held at the National History Museum in London.
Registration is now open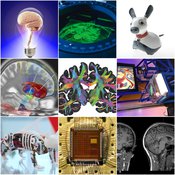 This day is an opportunity for researchers and industrials to meet and discuss exciting new projects on major topics such as artificial intelligence, brain inspired computing, data processing, neurosciences and brain related disorders. Few examples of HBP's innovations are presented here: https://hbp-innovation.weapply.io/, a platform which will be enriched with time.
The First Annual HBP Innovation Forum is an interactive event gathering leading industries, stakeholders and high-level scientists. During this day:
Keynotes on artificial intelligence and its applications
Round tables will be organized about the future of computing and brain related disorders, clustering HBP researchers and industries of all sizes,
And most importantly, networking times will allow free discussions, and we hope building of new partnerships.
This first day will be followed by an exhibition day for those who would like to continue the experience. (For more details: https://www.humanbrainproject.eu/en/follow-hbp/events/first-annual-human-brain-project-innovation-forum-the-exhibition/)
Practical details
The registration can be performed following this link: http://onlineshop.shef.ac.uk/conferences-events/faculty-of-engineering/computer-science/first-annual-hbp-innovation-forum
The full day 1 price is £150 includes lunch and coffee breaks. You can attend the second day (HBP innovation exhbition) for an additional £40.
Talks will be in English
The event is organised by multiple HBP partners with leadership from the University of Sheffield, the University of Amsterdam and École Polytechnique Fédérale de Lausanne (EPFL), and by Erdyn, an innovation consultancy company.
If you need any extra details about the event, the registration or if you would like to contribute as a speaker, feel free to reach out. Your contact is Shirihane Kouadri: shirihane.kouadri@erdyn.fr, who will be happy to help you.