Clinical Advisory Board
The Clinical Advisory Board (CAB) is an independent body that advises the Human Brain Project on clinical issues of general importance.
HBP Clinical Advisory Board:
Maurizio Corbetta (chair), Dept. of Neurology, Washington University, USA / University of Padua, Italy
Arthur Toga, Laboratory of Neuro Imaging, USC Stevens Neuroimaging and Informatics Institute, Keck School of Medicine of USC, University of Southern California, CA, USA
Susanna Palkonen, European Federation of Allergy and Airways Diseases Associations (EFA), Brussels, Belgium
Barbara Sahakian, Professor, Department of Psychiatry, University of Cambridge, Medical Research Council, UK
Amnon Shabo, Health Informatics Specialist, Philips Healthcare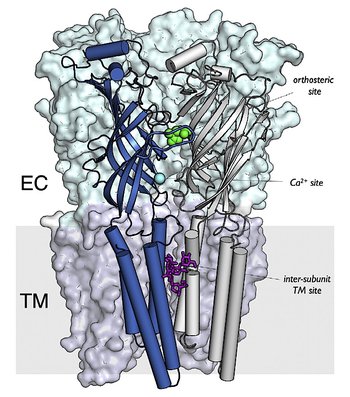 Illustraion of the receptor channel of a typical allosteric site like the nicotinic receptor of acetylcholine.
Modelling allosteric drugs is one of the HBP's co-design projects.